Arrest over 'fake ecstasy' death in Alexandria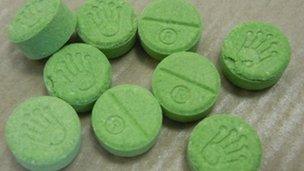 A man has been arrested in connection with the death of an 18-year-old who had taken fake ecstasy tablets.
The woman died in Alexandria, West Dunbartonshire, on Tuesday. She and three friends had taken green tablets with a Rolex Crown logo on them.
Similar tablets have been linked to the deaths of six other people in the west of Scotland in the past two months.
A 24-year-old man has been arrested over allegations he was concerned in the supply of controlled drugs.
He was detained in police custody, and is expected to appear at Dumbarton Sheriff Court on Friday.
Police said the teenager had taken the tablets in Alexandria with three friends in the early hours of Tuesday.
The three men, aged 18, 21 and 25, were all admitted to hospital.
Posters warning about the dangers of the tablets, which cause extremely high temperatures, hallucinations and convulsions, have been been put up at this weekend's T in the Park music festival.
Extra doctors and medical supplies are also being taken to the festival at Balado in Perth and Kinross and leaflets have been handed out to festival-goers.
A total of seven people in Glasgow, Lanarkshire, Ayrshire and West Dunbartonshire have died after taking the Rolex tablets over the past two months. Most were in their early 20s.
The tablets have also been linked to deaths in Northern Ireland.
Police have urged people not to take the tablets, which are sold as ecstasy but contain a dangerous chemical called PMA.
On Wednesday, Dr Richard Stevenson of Glasgow Royal Infirmary told the BBC numerous other people had been admitted to intensive care after taking the tablets.
Describing the effect the tablets have, Dr Stevenson, a specialist doctor in emergency medicine, said: "Initially it starts off with hyperactivity, unable to sit still, they are quite restless.
"Then the hallucinations start to kick in. They are very frightening for the individual."
He added: "They're not pleasant and they become combative, quite aggressive and they are confused about their surroundings and who is trying to help them.
"Then their body temperature starts to rise quite dramatically and it is that which is what is killing these individuals. We need to get their body temperature down as fast as possible."
A batch of similar green tablets, which also contain PMA but have been stamped with a Heineken logo rather than the Rolex crown, were seized in Aberdeen earlier this week.
Related Internet Links
The BBC is not responsible for the content of external sites.