Teen dies after taking fake ecstasy in Alexandria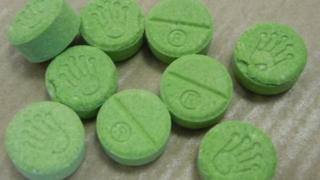 An 18-year-old woman has died after taking fake ecstasy tablets which may have contained dangerous chemicals.
Police said the teenager took the tablets in Alexandria, West Dunbartonshire, with three friends in the early hours of Tuesday.
The three men, aged 18, 21 and 25 were admitted to hospital. The 25-year-old is still being treated.
Seven people have now died after taking similar tablets in the west of Scotland in the past two months.
Police said the woman who died in Alexandria on Tuesday had taken green tablets with a Rolex crown logo stamped on them.
Officers said on Friday they were "particularly concerned" about the green Rolex crown tablets following the deaths of six other people in Glasgow, Lanarkshire and Ayrshire over the past two months.
Speaking on Tuesday, Supt Grahame Clarke said: "Our priority is to ensure the safety and well-being of our communities.
"Public warnings have been issued recently in relation to the dangers of taking ecstasy, or indeed tablets being passed off as ecstasy.
"They are illegal and could contain a cocktail of toxic ingredients.
"We have yet to establish if this particular pill is to blame for the death of this young woman, but the fact that she and her friends took pills described as green and with a Rolex stamp on it causes us real concern."
He added: "The exact contents of the pills are unknown but they could contain dangerous chemicals and users need to be aware of the dangers and understand the devastating effect they can have.
"I would strongly advise people to avoid any such pills or drugs and report any information to police."
'Intense high'
Supt Clarke warned people going to music festivals that there was a zero tolerance policy on drugs.
He said there will be drugs amnesty bins at T in the Park this weekend where illegal substances can be disposed of without risk of exclusion or prosecution.
Dr Richard Stevenson, Glasgow Royal Infirmary's senior specialty doctor in emergency Medicine, said symptoms to look for included a high temperature, aggression and muscle pains, as well as an extreme exaggerated effect of the drug such as hallucinations and excitability which would be very alarming and unpleasant.
"These symptoms are treatable if help is sought early I would urge anyone who begins to feel unwell or feels a more intense high than usual after taking any drug which they think is ecstasy or not to seek immediate medical help," he said.