Sharkey fire deaths: Victim was 'drug dealer' claims accused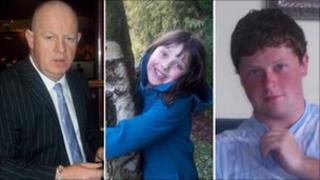 The victim of a fatal fire has been branded a drug dealer by a man accused of his murder.
Thomas Sharkey Senior was nicknamed "teabags" because he was involved in the supply of £10 bags of amphetamine, a court was told.
The allegations were made by Robert Jennings, 50, to police.
Mr Jennings and Scott Snowden, 37, deny murdering Thomas Sharkey Snr, 55, his son Thomas Jnr, 21, and his eight year-old sister Bridget in July 2011.
In his statement, made 10 days after the blaze, Mr Jennings told detectives he had nothing to do with the fatal fire and said he was elsewhere that night.
Excerpts from the statement made on 3 August 2011 were read to the court.
Tenner bags
In his statement, read to the jury by advocate depute Alex Prentice QC, Mr Jennings said: "I have been asked what I knew about Tommy Sharkey. I first got to know Tommy Sharkey years ago, maybe 20 years ago.
"Tommy and my brother Eddie were both drug dealers. At the time, Tommy got called teabags because he sold tenner bags of speed."
The court was also told that when quizzed about his relationship with Mr Snowden, his co-accused, Mr Jennings told police he was Snowden's cocaine tester.
Mr Jennings also stated that on the night of the fire he had left his girlfriend's house in the early hours of the morning to drive home to his own flat.
He told the police he did not hear about the fire until later that day when he returned to his girlfriend.
He said he had never been in Tommy Sharkey's house or even been to his door but knew where he lived.
Asked if he had any involvement in the fire he said: "No. No involvement whatsoever."
Giving evidence, Det Con Moira Fyfe said she was present when the statement was taken from Mr Jennings at Clydebank police office.
She confirmed that Mr Jennings also told officers Mr Sharkey had tried to sell him cocaine in 2010.
The court heard that Mr Jennings claimed on the weekend of the fire he stayed at his partner Karen's house on the Friday night so he could help with their three children the following morning.
And, that on the morning of the fire, he drove to his Williamson Drive home in Helensburgh.
He told officers: "I know I did go home that Sunday morning well after 1.30 in the morning, back of two."
"I drove home, didn't see anyone. Parked my car outside the flat on Old Luss Road and went in to my flat.
"I didn't meet anyone or see anyone.
"Next day I was woken up by the sound of locals outside. I could tell something had happened, there was a lot of excited talk."
The court heard he drove round to his partner's house, where he heard there had been a fire and that the two Sharkey children were dead and Mr Sharkey and his wife were in a critical condition.
Family dead
Mr Jennings told police: "No sooner had Karen told me that when my mobile rang, it was Joe Hosey. He asked me if I had heard what happened.
"I didn't let on I knew anything and he told me Tommy and all the family were dead and there had been a fire."
Mr Jennings said he told Mr Hosey that he hoped those responsible were caught.
Explaining why he said that, Mr Jennings told the officers: "The reason I would have said that is if either Karen or Joe had maybe insinuated that the fire had been set on purpose. I didn't know that."
Mr Prentice asked Det Con Fyfe if any information had been released to the public at that stage about the fire being deliberate.
She said the inquiry team were told it was wilful fireraising but she was not sure if the media had been made aware to tell the public.
Later, Det Con Fraser Spence told the court that he took a number of statements from |Mr Jennings.
In one of them he was asked about a text message he sent to co-accused Scott Snowden on 24 July 2011 at 01:22 after he had been told by his girlfriend about the fire at the Sharkey home.
At the time Mr Snowden was on holiday in Mexico with his family.
In a statement taken in November 2011, Mr Jennings was asked about this text and told detectives: "I don't remember texting. I accept I did but don't remember doing it."
Cocaine tester
Det Con Spence was asked by Mr Prentice: "Is that what Mr Jennings said," and he replied: "Yes."
Mr Jennings was also asked if he was the person captured on CCTV footage walking across the junction of John Street with West Princes Street, Helensburgh, minutes before and minutes after the fatal fire and said: "It's not me. I don't know who it is. I have watched it several times.
"It didn't jump out at me as someone I know. It could be anyone."
Speaking in his police interview about being Mr Snowden's cocaine tester, he said: "Scott will be in touch with me if he is looking for me to test a bit of cocaine for him.
"If he has a new batch and is looking to see how good it is he will contact me and I'll try it for him. He considers me a good judge of the cocaine and he knows I will be honest with him."
Mr Jennings also told detectives: "I have never done anything for Scott Snowden. I'm not his lackey."
Mr Snowden and Mr Jennings, 50, also deny a charge of attempting to murder Mr Sharkey's wife, Angela, 48, who survived the fire at the family home in in Scott Court, Helensburgh, Argyll, on 24 July 2011.
The trial before Lord Matthews continues.