2018 Youth Olympics: Glasgow fails in bid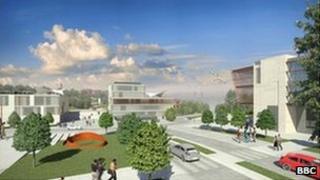 Glasgow has lost out in its bid to host the 2018 Youth Olympic Games.
The city was knocked out in the first round of voting in Lausanne, Switzerland.
Buenos Aires in Argentina won the International Olympic Committee (IOC) vote, defeating Colombian city Medellin in the final round.
Since the short list was announced, the final three bid cities had faced questioning and assessment from the IOC.
A delegation including Britain's most successful Olympian, Sir Chris Hoy, British Olympic Association (BOA) chairman Sebastian Coe, organisers, politicians and school pupils had travelled to IOC headquarters in Lausanne for the announcement.
Congratulating Buenos Aires on its victory, bid partners the BOA, Scottish government and Glasgow City Council pledged to continue building on the legacy from last summer's London Games and next year's Glasgow Commonwealth Games.
Bid director Paul Bush said: "This bid gave Glasgow and Scotland the chance to show its excellence and sophistication when it comes to staging world-class events.
"It is of course disappointing not to win but this was one of the toughest Olympic races of recent times and nothing can take away from the excellent technical and visionary bid put together by all the partners.
"I would like to pay particular tribute to all the young people who were at the heart of this bid from the beginning and who embraced it as their own. They should take immense pride in their achievements and use this journey as the catalyst for further success for themselves and for their city and country."
Glasgow launched its bid in June 2012 with a promise to put young people at the heart of the Games.
Athlete's village
The bid document proposed holding athletics events at Scotstoun Stadium.
Diving and swimming would have been staged at Tollcross International Aquatics Centre, with a purpose-built Athletes' Village at Sighthill, in the north of the city.
The Youth Olympic Games (YOG) is an international sporting event for the best young athletes in the world that aims to inspire young people to participate in sport and adopt and live by the Olympic values.
Young athletes (15-18 years of age) compete in all 28 Olympic sports over 12 days of world-class competition.
The Youth Olympics are held once every four years. Singapore staged the first competition in 2010 and the next is in Nanjing, China, in 2014.
Glasgow is already preparing to host the 2014 Commonwealth Games.