Demolition date for Inverkip Power Station chimney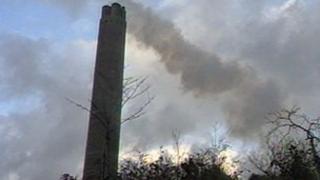 The chimney at the former Inverkip Power Station in Inverclyde will be demolished on 28 July, it has been announced.
Scottish Power said Scotland's tallest free-standing structure, near Greenock, would be brought down using explosives.
The plans to demolish the 236m (778 ft) tall chimney have been agreed following talks with experts and local agencies.
The operation will marks the end of a power station which was never able to fully operate as intended.
The oil-fired facility was given planning permission in 1970, and was designed to meet peak demand and provide flexibility to the electricity supply network.
However, due to the soaring price of oil in the 1970s the station was never commercially operated - except in 1984 and 1985, as a result of coal shortages.
The plant was kept as a strategic reserve until the late 1990s, when it was mothballed.
Inverkip's chimney, which contains more than 1.4 million bricks and 20,000 tonnes of concrete, is the third tallest free-standing structure in the UK.
Dylan Hughes, Scottish Power project manager, said: "The demolition plan for the chimney stack at Inverkip has been taken following months of discussions with experts including vibration specialists, explosives engineers and ecologists.
"We have also been working closely with the police, Inverclyde Council and the relevant railway authorities to ensure that the event will be managed safely."