'People Make Glasgow' unveiled as new city brand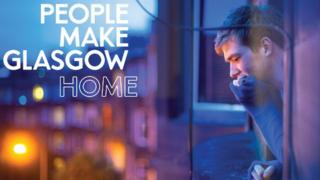 The slogan "People Make Glasgow" has been unveiled as the new brand name for Scotland's largest city.
It was chosen following a consultation which saw ideas submitted from more than 1,500 people from 42 countries.
Glasgow City Marketing Bureau said the process saw "words such as real, smart, home, creative, bright and better came through, time and time again".
The brand will be used to market the city at home and abroad and replaces: "Glasgow: Scotland with style."
The slogan combines with key ideas to form different messages, such as People Make Glasgow Home and People Make Glasgow Creative.
Glasgow City Council has committed £500,000 this year to develop and promote the brand across the UK and internationally.
'Sense of pride'
Council leader Gordon Matheson said said the new slogan "reflects the Glaswegian character."
"It's bold, friendly, confident, and it evokes a real sense of pride," he added.
"The people of Glasgow are at the heart of this brand - we have created something which presents a truly distinctive identity for the city and on behalf of Glasgow I would like to warmly thank all those who gave their ideas so generously."
The four-week consultation, which was run by the council's city marketing bureau, also attracted 7,000 website hits and involved more than 400,000 Facebook and Twitter users worldwide.
Once submissions had been analysed, a creative team from the marketing bureau came up with the new slogan, which was approved by board members.
Councillor Matheson added: "Over the past five weeks we have reviewed all of the contributions from Glaswegians and from across the globe.
"We also interviewed more than 40 of Glasgow's leaders from the private, public and academic sectors and, overwhelmingly, they told us that what makes Glasgow great is its people."
Professor Sir Jim McDonald, principal of Strathclyde University, said: "This launch is another milestone in Glasgow's renaissance and it celebrates what makes us a great city.
"It is absolutely fitting that the city is putting its citizens front and centre with the new brand."
Glasgow Chamber of Commerce chief executive Stuart Patrick said: "On behalf of the business community, we warmly welcome the new brand.
"Now our job is to go out and use the brand's core message to sell Glasgow to the world."