Jack Vettriano retrospective at Kelvingrove Art Gallery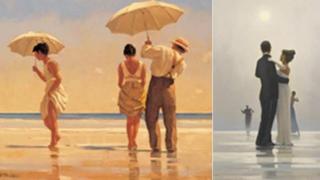 Glasgow's Kelvingrove Art Gallery and Museum is to stage "the most comprehensive exhibition ever" devoted to Scottish artist Jack Vettriano.
More than 100 of his paintings, from private collections around the world, will feature in the first major retrospective of Vettriano's work.
The exhibition will run at the Kelvingrove from 21 September this year until 23 February 2014.
Vettriano said he was "deeply touched" to have his work featured at the venue.
The artist said: "Exhibiting in such majestic surroundings is a great honour and one for which I am extremely grateful.
'Considerable emotion'
"It will not be without some considerable emotion that I will also be reunited with some of my own paintings - works that span 20 years of my career and many of which I have not seen in years.
"I've been very lucky that my works have found their way into a diverse range of private collections around the world over the years and I am most grateful to the owners for so kindly loaning their paintings back for this special exhibition."
The retrospective will showcase some of Vettriano's best-known paintings, such as Dance me to the end of Love (1998), Mad Dogs (1992), Long Time Gone (2006), Bluebird at Bonneville (1996) and The Billy Boys (1994).
The exhibition will also feature examples of his erotic works such as Game On (1999), The Parlour of Temptation (1996), An Imperfect Past (2000), Fetish (1998 ) and Night Geometry (1996).
All the paintings featured will be on loan from private collections and many are going on public display for the first time in close to 20 years.