Sharkey fire deaths: Witness denies setting blaze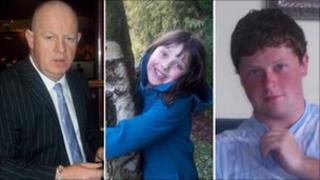 A murder trial witness has denied setting the fire which killed three members of the Sharkey family.
Steven McKeown, 22, is one of a number of men blamed for the alleged killings by the two men accused of murdering Thomas Sharkey and his two children.
Giving evidence at the High Court in Glasgow, Mr McKeown said he had no part in the fatal blaze on 24 July 2011.
Scott Snowden, 37, and 50-year-old Robert Jennings deny murder by torching the Sharkey family home in Helensburgh.
Thomas Sharkey Jnr, 21, and his sister, Bridget, eight, died in the blaze at their home in Scott Court. Their father, Thomas Snr, died in hospital days later.
Watching television
Both accused also face a charge of attempting to murder Mr Sharkey's wife, Angela, 48, who survived the fire on 24 July 2011.
Mr McKeown, from Helensburgh, was asked by prosecutor Alex Prentice QC where he was in the hours before the fatal fire.
He told the jury that he spent the night watching television with his girlfriend Katie Smith and their two-month-old baby at her parents house in Ardencaple, Helensburgh.
He was asked how far away from Scott Court this house was and replied: "About a mile."
Mr Prentice added: "When did you leave," and he replied: "At 4.30am or 5.30am. Her dad doesn't let me stay at the house. Her parents had been at the pub and returned then."
Mr McKeown told the court he walked to his own flat which was two minutes away and went to bed.
He was asked what time he thought he arrived there and said: "About 4.30am."
Mr McKeown said he was wakened the next day by his girlfriend phoning to tell him of the blaze at the Sharkey home.
Mr Prentice asked him: "Did you set the fire at the Sharkey home," and he replied: "No."
The prosecutor then said: "Did you assist in any way with the setting of the fire at the Sharkey home," and he replied: "No."
Mr McKeown was then asked why he jumped from the window of his flat, which is three floors up, weeks after the blaze and told the court: "I just argued with my girlfriend and was drunk."
The court heard that he escaped serious injury and only hurt his back.
Mr Snowden and Mr Jennings deny all charges against them.
The trial before Lord Turnbull continues.