Tory leader Ruth Davidson knocked back by barman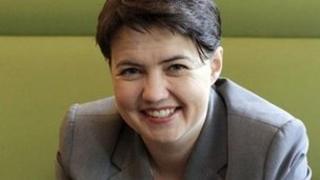 The leader of the Scottish Conservatives was refused alcohol at a Bruce Springsteen concert - because the barman did not believe she was over 18.
Ruth Davidson was at the concert in Hampden Park in Glasgow on Tuesday evening with the Tory MP David Mundell.
She went to the bar to buy Mr Mundell a beer but did not have any ID when the barman queried her age.
Ms Davidson, who is 34, joked about the incident on Twitter after being turned away.
She tweeted: "I got kb'd for not having ID trying to buy Mundell a beer at the Springsteen gig. He's 51. I'm clearly #34goingon17 #underage".
The Tory leader said the incident had "made her week".
Among the replies to Ms Davidson's admission was one from Labour's defence spokesman Jim Murphy MP, who responded: "@RuthDavidsonMSP Don't worry in the referendum it's votes at 16 so you should be OK."
While the author Ian Rankin added: "(That's the excuse they gave her anyway...) (Sorry, Ruth!)".
Ms Davidson said later that she was "amused and hugely flattered" that anyone could think she was underage.
She added: "Show me a woman who wouldn't be delighted to be thought of as half their age - I can only thank the steward for making my week.
"I was still chuckling about it when I woke up this morning."