New Subway 'Bramble' smartcard prompts price changes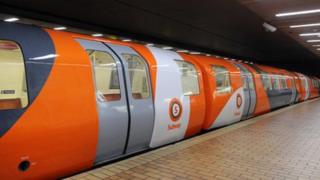 Prices for multiple-journey tickets on Glasgow's Subway system have had to be revised to cope with the introduction of new smartcard technology.
The current 10 and 20 journey tickets are being replaced by seven day and 28-day tickets costing £12 and £45.
Some passengers claim that the changes will reduce flexibility and erode the discount of multi-journey tickets.
Strathclyde Partnership for Transport (SPT) said the old undated tickets were not compatible with smart technology.
The transport body said that existing tickets work by deducting a journey every time they are used.
New barriers
The new technology sees the cash value of a journey deducted from the smartcard, which can then be topped up.
Subway operator SPT said an interim ticketing system would be introduced from the end of June in preparation for the arrival of Bramble later in the year.
The interim ticket will have a chip inside and be compatible with the existing barrier system on the Subway, and the new one which is being rolled out.
When the changes have been made, the Bramble smartcard will be launched.
A spokeswoman for SPT said: "SPT is introducing smart technology into the Subway, which includes installing new ticket machines, ticket office equipment and modern gates.
"The result will mean faster, easier journeys for customers and less queues at ticket offices.
"There will be a phased introduction of new smartcard products to complement the modern technology and new ticket types will replace old-style 10 and 20 Journey tickets as a result.
"We believe this will offer better value for money as customers can use these new season tickets to travel on the Subway any time, any day and as many times as they'd like while their ticket is valid."