Bereaved parents in Holyrood call for baby ashes inquiry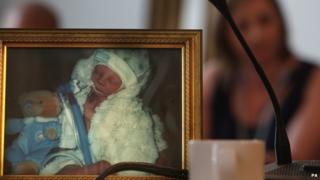 Bereaved parents who did not receive the ashes of their dead babies have taken their fight for a public inquiry to the Scottish Parliament.
Parents from across Scotland brought pictures of their babies to show to politicians meeting them at Holyrood.
MSPs from all parties were asked to give their backing.
An independent commission, led by Lord Bonomy, has been set up to look at the ashes scandal but parents say a public inquiry is needed to get at the truth.
The Infant Cremation Commission was set up by the Scottish government after it emerged baby ashes had been scattered without parents' knowledge.
In December, it emerged that Mortonhall Crematorium in Edinburgh secretly buried the ashes of babies for decades without the knowledge of the families.
Since then, crematoriums in Aberdeen and Glasgow have been implicated.
Parents from the Glasgow Answers for Ashes Parents (GAAP) group took pictures of their deceased children to Holyrood as part of their campaign for a public inquiry.
Chair of GAAP, Linsay Bonar, said: "Today's meeting is as much about fighting to get answers regarding the disposal of our babies ashes as it is to remind ministers and politicians that at the heart of our campaign are our precious babies, many of whom seem to have been forgotten about over recent weeks.
"Parents like myself have felt dejected and quite frankly insulted by the clinical and dismissive manner in which the first minister in particular has referenced our plight in the Scottish Parliament.
"Each and every one of us fighting for the truth has lost a much-loved and much-wanted baby and the only way we can truly grieve our losses is to know what happened to their ashes and why we were denied this basic information at the time. Surely this is not too much to ask?"
The meeting at the Scottish Parliament was also set to hear from parents from across central Scotland, as well as representatives from Mortonhall Ashes Action Committee.
First Minister Alex Salmond has said an investigation into past practice in Edinburgh could extend into other areas. Separately, Lord Bonomy has been tasked with advising on better practice for the future.
Labour leader Johann Lamont said: "This meeting will provide an opportunity for grieving parents to explain to MSPs why they believe a public inquiry is so important and I hope that it can play a part in the parents securing the action that they demand."
Public Health Minister Michael Matheson said: "I have met with individuals affected by these issues, including representatives of the Mortonhall Ashes Action Committee, Sands Lothian, individual parents and MSPs and I have the upmost sympathy for what those involved have been though and what they are going through now.
"The Scottish government has acted decisively to establish the Cremation Commission, which is in the process of thoroughly examining the policies and practices in all crematoria in Scotland, as well as in related fields such as the NHS and the funeral industry.
"We have never ruled out a public inquiry, but believe that we should allow the Bonomy Commission and Angiolini investigation to conclude their work first before determining whether or not an Inquiry is necessary. This will also allow us to update legislation as quickly as possible to stop these distressing events ever being repeated."