Glasgow and Dundee researchers study why people go missing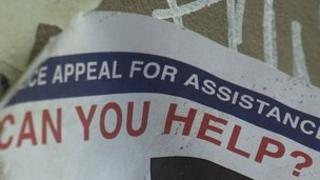 Recommendations have been drawn up to improve support for people who have previously gone missing.
As part of a project involving teams from Glasgow and Dundee universities, interviews were carried out with people who had chosen to disappear.
The work is thought to be the first in-depth study into the reasons people leave and where they end up.
It suggests people were less likely to go missing again if they are treated sympathetically when they return.
The findings are due to be presented at a major conference in Portsmouth.
About 327,000 people are reported as missing to the authorities in the UK every year but little research has been carried out which offers practical insights to those who deal with them.
For the Geographies of Missing People project, researchers from the universities of Glasgow and Dundee worked in partnership with the Scottish Institute for Policing Research, the Metropolitan Police and Police Scotland.
They were supported with advice from the charity Missing People.
They interviewed 45 people, aged between 18 and 79, who had previously chosen to go missing in the Grampian and London areas.
Primary investigator on the project, Dr Hester Parr, from Glasgow University, said: "Our research aims to identify not just why a person gets reported as missing, but to provide a deeper exploration of where they go, how they make decisions in relation to their geographies and the emotions they experience while they are away.
"People choose to go missing for a wide variety of reasons, but there are common threads. A history of traumatic experiences, feelings of being unable to cope, and feeling trapped or powerless to share their emotions were widely reported by those we spoke to."
The researchers said people were less likely to go missing again if they are treated sympathetically when they return.
'Valuable resource'
Dr Parr added: "Ultimately, what police officers say to people - once they're found - about being a missing person matters hugely in helping people cope after the event.
"When police are unsympathetic, people can be left feeling confused and guilty, and perhaps more likely to go missing again in the future. We hope that the work we've done will be a valuable resource in police education and training in the future."
The team has drawn up a series of recommendations for government, police agencies, healthcare professionals and voluntary agencies.
"Our hope is that research such as this will help broaden public and professional understanding of people reported as missing and lessen the stigma attached to the experience, and that our recommendations can be taken on board across the country," said Dr Parr.
The results of the study will be presented at the first International Conference on Missing Children and Adults which is taking place at the University of Portsmouth.