BBC Trust upholds complaints over reporting on Rangers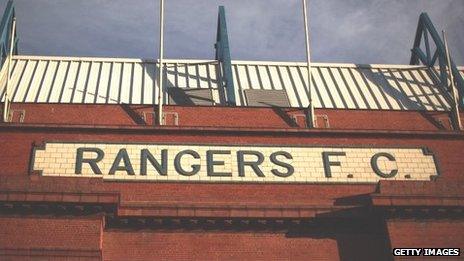 The BBC Trust has ruled that BBC Scotland breached its guidelines on accuracy in reports about the financial collapse of Rangers Football Club.
It rejected parts of the complaints which alleged that use of the terms was a result of "anti-Rangers bias".
BBC Scotland, which argued in its evidence that it had achieved "due accuracy", said it noted the findings.
The issue was considered by the Trust's Editorial Standards Committee (ESC) after the complaints were rejected at different stages of the BBC's internal complaints procedure.
The complaints focused on the use of language in BBC News Online and BBC Sport Online reports covering the financial collapse of Rangers Football Club.
In various reports, reference had been made to "old" Rangers being placed in liquidation, with the assets being sold to Charles Green's consortium, which subsequently "re-launched" the "new" club in Division Three.
The complainers objected to this, maintaining that it was only the company which ran the club, and not the club itself, which was liquidated.
They also claimed that the use of such terms was a result of "anti-Rangers" bias by BBC Scotland.
In its ruling, the ESC said that where the BBC had made the distinction between an "old" and "new" Rangers, as opposed to the "old" and "new" company, it "had not used clear, precise language and due accuracy had not been achieved such that the guidelines on accuracy had been breached".
The ECS said it was "satisfied that although there had been a breach of the editorial guidelines in relation to due accuracy and the use of clear and precise language, it had not seen anything to suggest that the BBC had knowingly and materially misled its audience".
The committee said the Rangers story was "a complex subject and it considered that the use of imprecise language was likely to have been as a result of that complexity".
In its evidence to the Trust, BBC Scotland had stated: "We remain of the opinion that due accuracy was achieved."
It said: "A football club, once incorporated, is indistinguishable in Scots law from its corporate identity.
"If the club was separate it would need its own constitution, committee members, trustees, etc.
"Rangers Football Club does not have that because it is incorporated."
BBC Scotland's submission said that an implication of the ESC ruling could be that future reporting, in order to achieve a "common standard", may have to differentiate "between the business elements of a club's activities and its footballing activities".
It added: "This, we believe, would add layers of complexity to reporting that would not be to the benefit of clear reportage or enhance the understanding of such issues by our audiences."
Following publication of the Trust's findings, BBC Scotland said: "We note the findings of the report."
Related Internet Links
The BBC is not responsible for the content of external sites.