Celebrating Paisley's forgotten bird hero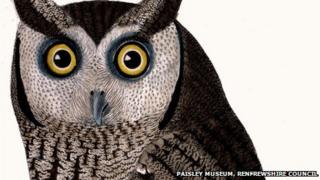 He's been called the "father of American ornithology", but Alexander Wilson was born and brought up in Paisley.
A friend of Robert Burns, Wilson too won fame as a poet, before emigrating to America under a legal cloud. His radical verse saw him brought before the courts, and imprisoned, facing charges of libel and blackmail.
He was born in July 1766, educated at Paisley Grammar School, and apprenticed as a weaver.
But the town was at the very beginnings of the industrial revolution, and Wilson's radical politics led him to rage against the pay and conditions being imposed on his craft.
Paisley's local history librarian David Weir says: "In his poem 'Lang Mills Detected' he rails against the manufacturers and their middle men.
"They put the work out to the weavers, and the weavers always felt that they were taking too much money. But they always felt that the weavers were looking for money when there wasn't any."
Prof Edward H "Jed" Burtt from Ohio Wesleyan University is co-author of a new biography of Alexander Wilson.
He says: "Because he had read Jefferson and Thomas Paine about liberty and democracy, he decided to go to the United States.
"He left Scotland in 1794, and he arrived in Philadelphia which was extremely fortunate.
"It was the intellectual capital of the United States at that point."
Alexander Wilson became a school teacher, and an enthusiastic bird watcher.
Nicola MacIntyre from Paisley Museum says it seems likely he was building on his experience at home.
She says he had regularly walked from Paisley to his parents' new home at Auchenbathie Tower.
"That would have taken him through a lot of countryside where he would have been able to observe the plants and the animals," she explains.
"This would have given him the skills he was able to use in America."
Jed Burtt adds: "In 1803 he conceived the idea of describing all the birds of the United States."
Alexander Wilson undertook an epic journey on foot to Niagara Falls - observing, sketching, and shooting birds.
By 1808 the first of a projected ten volumes was published, illustrated with Wilson's own pictures of the birds he described.
According to Pat Monaghan, Regius professor of zoology at the University of Glasgow, the care he took in painting the illustrations made his contribution unique, and groundbreaking.
She says: "If you cast your mind back to the time Wilson was working, he didn't have binoculars. He didn't have any way of really looking at these birds.
"(But) he wanted to get (the pictures) scientifically accurate. So what he would have to do is go in to the habitat - it might be forest, it might be shrubbery, open habitat, whatever - watch the bird.
"Get an idea, how does it stand? how does it fly? He'd be doing that from a distance, so he wouldn't see the detail. Then, unfortunately, what he would have to do is shoot the bird, get a specimen, and then use that to do this very accurate drawing that he did."
That, she believes, was remarkable for a man with no scientific or artistic training.
"He was one of the first ornithologists to really go for that combination of accuracy about the bird's behaviour, its habitat, its posture," Prof Monaghan explains.
"Accuracy about its plumage as well. So it was a very very scientific approach.
"He made this wonderful pioneering journey from a poorly educated Scot to being a very well recognised member of the scientific community world-wide."
And Jed Burtt agrees that Wilson's achievements deserve to be celebrated.
He adds: "He established ornithology in the United States as a science.
"Secondly, he established nature writing in a very different way than it had been practised before. Writing about the wonder of nature - just go out and look at it, and think how amazing this creation is.
"Thirdly, he brought nature illustration to a point where you could use (his pictures) to identify birds. In a sense his 'Ornithology' was the first field guide."
There are exhibitions telling the story of Alexander Wilson and celebrating his achievements at Paisley Museum and Art Gallery and - as part of the British Ecological Society's Festival of Ecology - at the Hunterian Zoology collection at the University of Glasgow. They run until September.