Glasgow Hydro opening 'still on schedule'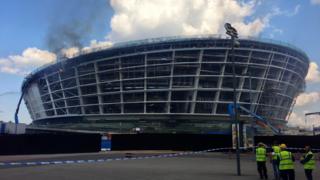 Glasgow's new £125m Hydro arena is still scheduled to open at the end of September despite a fire in the roof just over a week ago, operators claim.
The 12,000-seat entertainment venue was hit by a fire on Saturday 8 June.
Operators said the damage was "not as severe" as first feared but there were areas around the roof which could "impact" on construction.
They said the project remained on target but they did not completely rule out a delayed opening.
A statement said: "Everyone involved in the project remains sharply focused on achieving our opening night concert with Rod Stewart on 30 September.
"Whilst there remains some residual risk, the SEC team will do all we can to support the construction team and be ready for the September opening.
"We will continue to provide regular updates to promoters, artist management and fans as we work to clear these issues."
It is thought the fire was caused by sparks from welding on the roof.
The fire quickly took hold causing damage to the roof and smoke damage inside the building.
No-one was injured but contractors Lend Lease have spent the past nine days assessing fire and water damage.
The Hydro is being built on the north bank of the Clyde, next to the SECC.