Sharkey fire deaths: Accused made denial on arrest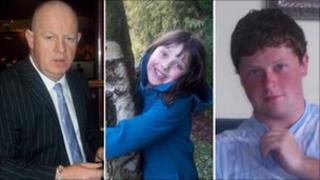 One of two men accused of murdering three people in a Helensburgh house fire denied responsibility while being arrested, court has heard.
Det Con Alan Glasgow told the High Court in Glasgow that he and a colleague detained Robert Jennings.
He said the accused told them: "It's nothing to do with me."
Mr Jennings, 50, and Scott Snowden, 37, deny murdering Thomas Sharkey, 55, and his two children by torching their home in Helensburgh on 24 July 2011.
Thomas Sharkey Jnr, 21, and his sister, Bridget, eight, died in the blaze at their home in Scott Court. Their father, Thomas Snr, died in hospital days later.
Arrest evidence
Both accused also face a charge of attempting to murder Mr Sharkey's wife, Angela, 48, who survived the fire on 24 July 2011.
Prosecutor Alex Prentice QC asked Det Con Glasgow: "You took part in the inquiry into the fire at Scott Court," and he replied: "Yes."
Mr Prentice then said: "On Wednesday, June 6 2012 did you attend at Mr Jennings' home in Williamson Drive, Helensburgh," and Det Con Glasgow replied: "Yes."
The police officer was asked if Mr Jennings was detained and said he had been.
Mr Prentice said: "What for," and Det Con Glasgow said: "Murder."
The prosecutor then said: "Was that the murder of Tommy Sharkey senior, Thomas Sharkey junior and Bridget Sharkey and the attempted murder of Angela Sharkey," and the policeman said: "Yes."
The court heard that when he was detained Mr Jennings said: "It's nothing to do with me."
Under cross-examination Det Con Glasgow was asked by QC Ian Duguid, representing Mr Jennings, if a search of his client's home and car had revealed any hooded tops and replied: "No."
Another police officer, Det Con John McFall, told the court that 40 to 50 officers were involved in the investigation of the deaths of the Sharkey family.
Mr Duguid asked him: "We saw CCTV footage of a person walking across a junction in the early hours of the morning of July 24, 2011 wearing a hooded garment, is that correct," and Det Con McFall said: "Yes."
The QC added: "The police would be interested in people wearing hooded tops," and the officers replied: "Yes."
Mr Snowden and Mr Jennings deny all the charges against them.
The trial before Lord Matthews continues.