Tesco in West Dunbartonshire in 'strong alcohol ban'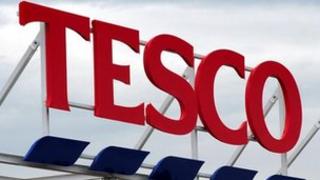 Tesco has agreed not to sell higher strength alcohol at one of its stores in order to secure licensing approval from West Dunbartonshire Council.
The supermarket giant was told it could not sell beers, ciders and caffeinated alcoholic drinks which have an alcohol-by-volume strength of more than 5.5%.
It agreed to secure the licence for its store in Hardgate, near Clydebank.
Tesco said it worked closely with councils and police to address concerns raised in the communities it served.
In 2010, West Dunbartonshire Council adopted one of the toughest alcohol licensing policies in Scotland.
Overprovision policy
It effectively limited the number of new licences issued in a bid to reduce the "overprovision" of sales outlets.
The council is currently reassessing the policy, but tough conditions remain in place for retailers.
Tesco applied to the authority's Licensing Board on Tuesday for an amended licence for its store at Hardgate.
The supermarket wants to extend the approved alcohol sales hours from 20:00 to 22:00 and increase the size of the store's alcohol display area.
The board granted the application after Tesco offered not to sell beers, lagers and ciders where the alcohol-by-volume content is greater than 5.5%.
Tesco also agreed not to sell caffeinated alcoholic drinks and any cans or bottles of beers, lagers and ciders in packs of less than four where the individual unit size is 440ml or less.
A council spokesman said: "The Licensing Board approved the application from Tesco to vary the existing licence after considering the application and its benefits compared to the existing premises licence.
"They also took into consideration the additional responsible conditions agreed by Tesco to tailor the products available for sale."
A spokesman for Tesco said: "As a responsible retailer of alcohol, we work closely with local councils and the police to address any concerns raised in the communities where we operate.
"Where the local authority or police have concerns over high-strength products, they have added conditions to our licence with which we comply.
"We also keep our range of alcohol under constant review based on customer demand and feedback and, as a result, have removed products such as high-strength white cider, from our shelves."