Lynda Spence killer Colin Coats in conviction appeal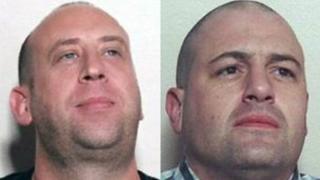 One of two men jailed for life for abducting, torturing and murdering businesswoman Lynda Spence is to appeal against his conviction and sentence.
Colin Coats and Philip Wade, both 42, were convicted of killing the 27-year-old who was last seen in Glasgow in 2011. Her body has never been found.
Coats was jailed for a minimum of 33 years. Wade was told he must serve 30 years.
Coats has lodged papers at the Court of Appeal in Edinburgh.
Throughout his trial, he denied murdering Ms Spence and claimed he was helping her escaped her creditors by giving her a safe haven.
Horrific torture
He claimed the last time he saw her she was alive and well.
At the High Court in Glasgow in April, Coats was unanimously found guilty of the murder and subsequent clean-up.
Wade was found guilty of the murder by majority verdict and unanimously guilty of the clean up.
The trial heard that Ms Spence was held by the pair, who she had conned out of money, in the attic of an Ayrshire flat and tortured while tied to a chair for 13 days.
Her thumb and the tip of a finger were chopped off with garden loppers, her legs were smashed with a golf club and her hands burned with a steam iron.
Coats then smothered her on 28 April 2011 before cutting off her head.
He and Wade then disposed of the body. Her remains have never been found.
Judge Lord Pentland jailed both men for life and said that Coats was "a manipulative devious and cruel personality" and branded him "an extremely dangerous man".
He described Coats as "the prime mover behind the abduction torture and murder of Ms Spence", which he described as a "a truly monstrous and barbaric crime".
The judge said that both the killers were motivated by greed and revenge.
Two other men, David Parker and Paul Smith, were each jailed for 11 years for assaulting Ms Spence and holding her captive.