Sharkey fire deaths: Accused 'unfairly implicated'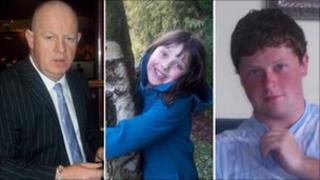 A witness in the Sharkey fire deaths trial has admitted saying one of the accused had been "unfairly implicated".
Under cross-examination at the High Court in Glasgow, Colin Hughes, 49, admitted that he made the remark to a barmaid at Rhu Marina in Helensburgh.
He also said a person on CCTV images shown on the BBC Crimewatch programme did not resemble Robert Jennings.
Mr Jennings and Scott Snowden deny murdering Thomas Sharkey and his two children by setting fire to their home.
Thomas Sharkey Jnr, 21, and his sister, Bridget, eight, died in the blaze at their home in Scott Court, Helensburgh. Their father, Thomas Snr, 55, died in hospital days later.
Crimewatch footage
Both accused also face a charge of attempting to murder Mr Sharkey's wife, Angela, 48, who survived the fire on 24 July 2011.
Mr Hughes, a joiner, was asked by defence QC Ian Duguid, representing Mr Jennings, if he had spoken to a barmaid at the Rhu Marina and mentioned Mr Jennings and he agreed he had.
Mr Duguid then said: "Did you say that Mr Jennings was being unfairly implicated in the Sharkey fire deaths," and Mr Hughes replied: "Yes."
Referring to the CCTV footage shown on the BBC Crimewatch programme, the witness added: "The person walking looks nothing like Rab."
The trial has already heard from another witness, caretaker George Murray, who claimed that the figure seen on the video clip looked like Mr Jennings.
In evidence, Mr Hughes alleged that he drove Mr Jennings to Alexandria and dropped him off.
He claimed that Mr Jennings came back minutes later with a knife covered in blood.
Mr Duguid told Mr Hughes that there were inconsistencies between what he told police and what he had said in the witness box.
The QC pointed out that Mr Hughes told police the alleged slashing of Richard McKinney, from Alexandria, took place at 07:00 and then told the jury it happened at 19:00.
Mr Hughes said: "I made a mistake about the time. It was winter and it was dark."
Mr Duguid said: "Did you just maybe make up the answers to the police as maybe you are making up the answers to me," and Mr Hughes replied: "No."
The QC then said: "You do talk a lot of rubbish at times, don't you," and Mr Hughes said: "No." Mr Snowden, 37, and Mr Jennings, 50, have lodged special defences of incrimination and alibi, with Mr Snowden claiming he was in Mexico when the fire at the Sharkey home was allegedly started, while Mr Jennings claims he was home alone in Helensburgh.
The trial before Lord Matthews continues.