Glasgow rapist Mohammed Al Dehshari jailed for five years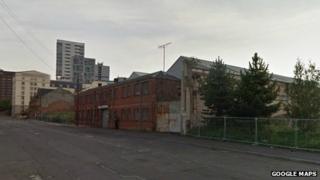 A Palestinian man who was convicted of raping a woman in Glasgow and attacking another has been jailed for five years.
Failed asylum seeker Mohammed Al Dehshari, 28, raped the 30-year-old, who had been working as a prostitute, in Washington Street in October 2012.
He was caught after his DNA was found on the victim and later connected to an attack on another prostitute at a flat in Sighthill 18 months earlier.
Dehshari was ordered to be supervised for three years after his release.
He was also placed on the sex offenders' list indefinitely.
Re-offending risk
Jailing him, temporary judge John Beckett QC told Dehshari he had been assessed at a high risk of committing another sexual offence.
He said Dehshari had "taken advantage" of the rape victim by taking her to a "remote" place where she could not get help.
The judge told him: "Having regard to the gravity of the crimes, there is no alternative to a custodial sentence."
Gary Allan QC, defending, said Dehshari intended to return to his homeland when he was freed from prison.
During his trial, the High Court in Glasgow heard how a smiling Dehshari approached the rape victim on 10 October last year and guided her to a "lonely spot" in Washington Street.
The woman said everything appeared fine until she insisted he use contraception.
She told the trial: "He started going mental. He started punching me on the face and pulling my hair.
"I gave him the money back. I felt if I did not, he would go further and it would be a lot worse."
Dehshari then demanded his victim strip despite her pleas to be left alone.
He then raped her before tossing a £20 note at his crying victim.
DNA link
She said: "He threw it on the ground like I was a piece of rubbish - that's all you are worth."
The court heard she initially did not want to report the rape fearing she would not be believed but later contacted police after confiding in a friend.
Dehshari was identified as a suspect after his DNA was found on the victim.
He was then linked to another incident against another prostitute 18 months earlier.
The 21-year-old woman had agreed to go to Dehshari's flat in the Glasgow's Sighthill area after he met her in the city centre on 26 April 2011.
The court heard that, once at the property, Dehshari became enraged after again refusing to use contraception.
He grabbed the woman's hair, pulled out her earring and threw her to the ground.
She managed to escape before alerting police, who found her to be "distressed and dishevelled".
Dehshari had been accused of attempting to rape the 21-year-old woman, but the jury returned a not guilty verdict, instead convicting him of assault.