Aircraft carrier section loaded onto barge in Clyde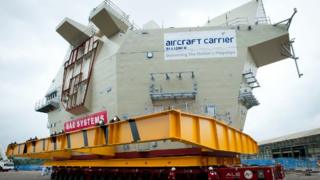 A 750-tonne section of the UK's biggest aircraft carrier has been loaded on to a barge in the River Clyde.
Workers at BAE System's Scotstoun yard will now weld and secure the aft island to the barge.
It will be transported to Rosyth, Fife, on 16 June where other sections of the massive ship are being assembled.
The aft island, which will host the carrier's air traffic control centre, is the last major section of HMS Queen Elizabeth to be made on the Clyde.
It has been completed ahead of schedule, BAE said.
Largest warships
HMS Queen Elizabeth and another aircraft carrier, HMS Prince of Wales, are the largest warships ever constructed for the Royal Navy.
The first is due to be launched in 2016.
Six shipyards around the UK are involved in building various parts of the ships, which are being assembled in Fife.
Once complete it will be 280m (919ft) long and weigh more than 65,000 tonnes.
They are being built by the Aircraft Carrier Alliance, a partnership of BAE Systems, Babcock, Thales and the Ministry of Defence.
About 10,000 people have worked on the construction at various stages and each ship will have a crew of 1,600, including pilots, when it is in service.