Poisoned baits found on Leadhills Estate probed by police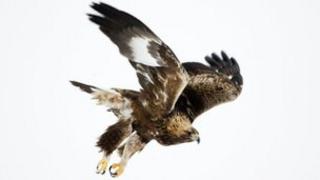 Police are investigating the discovery of poisoned baits on a sporting estate in South Lanarkshire.
The Leadhills Estate has been the focus of a series of recent investigations by wildlife crime officers.
The inquiry began on 8 March, after a report from a member of the public, but details have only just been released.
The Project Raptor group, which probes crimes involving birds of prey, said it was carrying out "field research" on a grouse moor when the find was made.
A police spokeswoman told BBC Scotland: "Police officers, including a wildlife crime liaison officer, were dispatched to the area the same day and following an extensive search, items were found and seized.
"A number of people were detained by police in connection with this inquiry, which is currently ongoing."
BBC Scotland has learned Scottish government scientists have confirmed the baits contained carbofuran, a banned pesticide.
Research shows carbofuran is used more often than any other poison in cases of raptor persecution. Experts say one grain of the pesticide is capable of killing even large birds of prey, such as Golden Eagles.
A spokesman for Scottish Land & Estates, which represents landowners across Scotland, said: "It would be inappropriate to comment while the facts of the matter have still to be established.
"As an organisation, we are actively involved in the Partnership for Action Against Wildlife Crime and our membership undertakes an enormous amount of positive work in this area."
The Scottish Gamekeepers' Association said: "Because this appears to be subject of a live investigation, it would not be appropriate to comment other than to reiterate that the Scottish Gamekeepers' Association does not condone illegal poisoning."