Record numbers at West End Festival's Mardi Gras parade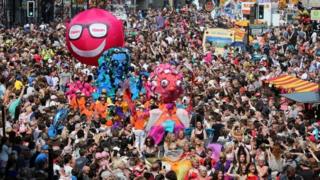 Organisers of Glasgow's West End Festival have said the weekend sunshine encouraged "record numbers" to turn out for Sunday's Mardi Gras-style parade.
Tens of thousands of people turned out to watch the carnival return to Byres Road for its 18th year.
About 600 revellers took part in the parade, led by six samba bands.
It marked a triumphant return for the event, which was dropped last year after organisers could not meet rising costs from sponsorship income.
The parade was given the green light in April after a successful fundraising drive.
'Fantastic day'
Festival chairman Liz Scobie said Sunday's parade had been a huge success.
"It's an opportunity for the west end of Glasgow to open its heart to the rest of the city and beyond," she said.
"We had people travelling from all over to come to the festival.
"I've spoken to traders and bar and restaurant owners who have all said what a fantastic day it's been."
The programme for the 2013 festival features more than 400 events in some 80 venues across the west end of Glasgow, ranging from music and theatre, to walks, talks and community galas.
The festival got under way on 31 May and runs until 30 June.