Memory quilts cover Hampden pitch to showcase lives of people with dementia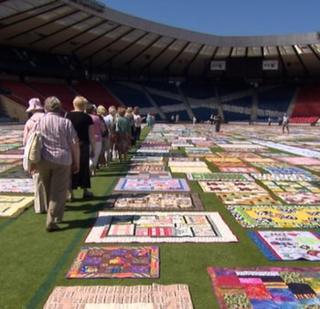 Thousands of quilts stitched with the memories of people with dementia have been spread out to cover the pitch of the national stadium at Hampden.
The event is linked to the Alzheimer Scotland Scottish Football Memories Project, which uses football to stimulate memories of the past.
Some of the quilts on show featured stars including Sir Alex Ferguson, Gordon Strachan and Craig Brown.
Former Scotland manager Brown was at Hampden to show his support.
Ann Hill, resident quilter at NHS Dumfries and Galloway, has been a driving force behind the event.
Work to create the quilts sees people with dementia talk about family, friends, places and events from their past and these are stitched into a quilt which is then presented to the person.
The memories of football teams and games from the past have also been used in a project run by Glasgow Caledonian University.
Ms Hill said: "We have been working on this project for around four years and almost 3,000 quilters from right across the world have rallied to the cause superbly.
"We have quilts depicting Billy Connolly, Mrs Brown's Boys, Sir Alex Ferguson, Gordon Strachan, Craig Brown and virtually every football club in the country.
"We are going to get some signed and they will be auctioned off at a football dinner and the monies raised will go to the Alzheimer Scotland/Scottish Football Memories Project.
"Billy Connolly has already signed his and was amazed at the work that had gone into it."
Alzheimer Scotland chief executive Henry Simmons said: "Football is the connecting thread between so many different aspects of Scottish life and Ann Hill and the quilters of Scotland have done a wonderful job."