Gamers given 48-hour challenge to help dementia patients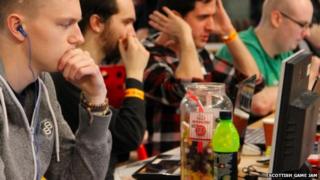 A marathon meeting of video game enthusiasts is being staged in Glasgow in a bid to help people with dementia.
Glasgow Caledonian University is hosting a 48-hour "Jamming 4 Small Change" session in a bid to develop new digital-based therapies for patients.
The video game and app design challenge is being supported by Alzheimer Scotland and Glasgow School of Art.
A traditional "game jam" sees artists, designers and programmers brainstorm for short periods to create new games.
Dr Jon Sykes, director of the university's eMotion lab, said: "Forget the fictional world of Harry Potter, Jamming 4 Small Change is where the real magic happens.
"It is Scotland's creative industry manifesting life-changing products in just 48 hours, for real people with real problems. That is why I am so proud of this event and the people who take part."
'Life-changing products'
People who have registered to take part in the event, which begins on Friday, will be presented with "creative briefs" from Glasgow School of Art students, under the guidance of Alzheimer Scotland.
Refreshments will be offered throughout the weekend as "jammers" hammer out their ideas.
The university said that the event would also offer the opportunity for up-and-coming developers to showcase their talents to a panel of judges which would "include some of the industry's biggest names".
Joyce Gray, deputy director of development at Alzheimer Scotland, said: "We are very excited by the collaboration and are greatly looking forward to working with this hub of creative talent.
"Living well with dementia is a huge challenge for society, but one we need to address quickly and effectively.
"Harnessing the potential of digital technology to help us to do this could make a huge difference to people with dementia, their carers, partners and families."