Top Gear stunt inspires mobility scooter off-road trail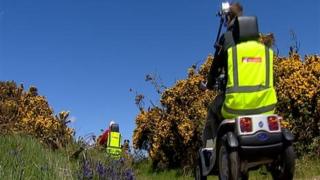 A community in Argyll is offering off-road driving with a difference thanks to some unusual inspiration.
It all started with an edition of the BBC's Top Gear programme.
Jeremy Clarkson and the team had challenged a group of disabled servicemen to an off-road race to the top of a hill. The Army guys won, of course.
But watching was Jim Galbraith, a director of the community-run Network Carradale visitors' centre on the Kintyre peninsula.
The group were just about to open their revamped centre, financed with £30,000 of lottery cash and including a mountain-bike hire shop.
Jim thought providing off-road mobility scooters for hire would be a useful addition to their services and contacted Top Gear to find out which machines had performed best.
Network Carradale now has two of the buggies to hire out to visitors with a range of mobility difficulties.
"Because we've opened the mountain bike centre here, what we wanted to do was offer something all-inclusive," said Jim.
"Customers can be accompanied by their friends walking or on bikes because we've got some lovely forest trails here in Carradale."
The electric buggies have a top speed of just 4mph over rough terrain but they can travel up to 30 miles on a full charge. They can also tackle a gradient as steep as one in four - pretty challenging even for an able-bodied person on a bike.
Local pensioner David Currie was one of the first to try out the machines and he's been impressed.
He said: "I would say they could certainly go wherever people can walk.
"They'll take a very steep hill no problem and they're a very safe mode of transport."
Fellow resident, Michael Trott, agreed. Recovering from an operation, Michael has his own mobility problems but reckons the buggies are a great way for the less able to enjoy the great outdoors.
"I think it's fantastic. It means that if a family comes down here with someone who's elderly or less-able, then they can actually join them in outdoor activities at the same time," he said.
The buggies have slightly larger, chunkier wheels than standard mobility scooters and are available to hire.
One disabled visitor told staff, after going for a trek along a forest trail, that it was the first time she had been able to go out with her family without simply being stuck in the back seat of a car.
But do not expect the tranquillity of this remote part of Argyll to be shattered by off-road petrol-heads tearing up the environment - the electric motors mean the buggies are virtually silent.