Sharkey fire deaths: Witness' partner denies fake alibi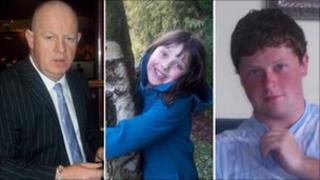 The partner of a man who is being blamed for murdering three people in a house fire in Helensburgh has denied providing a false alibi for him.
Jennifer Milne, 28, said it would be a "blatant lie" to suggest Lee McCarthy was not at home when the fire occurred.
She was giving evidence at the High Court in Glasgow trial of Scott Snowden, 37 and Robert Jennings, 50.
The pair deny murdering Thomas Sharkey and his two children and have blamed other people, including Mr McCarthy.
Thomas Jnr, 21, and his sister, Bridget, eight, died in the blaze at their home in Scott Court on 24 July 2011. Their father, Thomas Snr, 55, died in hospital days later.
Special defences
Both accused also face a charge of attempting to murder Mr Sharkey's wife, Angela, 48, who survived the fire.
They have lodged special defences of incrimination and alibi, with Mr Snowden claiming he was in Mexico when the fire at the Sharkey home was allegedly started, while Mr Jennings claims he was home alone in Helensburgh.
One of the people they have incriminated is 31-year-old convicted drug dealer Mr McCarthy - who denies involvement.
Mr McCarthy's partner Ms Milne was giving evidence for a second day at the trial.
The court earlier heard from her boyfriend who claimed he was in bed at home when the fire is said to have happened.
Ms Milne, a florist, previously recalled Mr McCarthy being in their bedroom "asleep, snoring and smelling of drink".
Prosecutor Alex Prentice QC put to the witness that three members of the Sharkey family "perished" in the blaze in what would have been a "horrific experience".
Witness 'upset'
He then asked: "Is there any way that you would provide a false alibi for your boyfriend for a crime of that nature?" She replied: "Absolutely not."
Mr Prentice went on: "It might be suggested that on July 24 2011 at 5am that Lee was not at home." Ms Milne replied: "That's a blatant lie."
Mr Prentice then asked: "There was a rumour that he had something to do with it. How did you react to that?"
Ms Milne answered: "I was upset. I did say to him that it was because of the people he was hanging about with at the time."
Mr Snowden and Mr Jennings face 22 charges between them, all of which they deny.
The trial before judge Lord Matthews continues.