Glasgow City Council 'sincerely sorry' over baby ashes scandal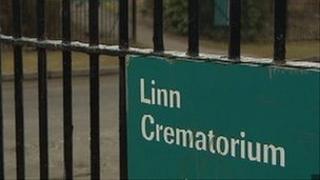 Glasgow City Council has said it is "sincerely sorry" for dispersing the remains of dead children without their parents' consent.
The apology came as the authority published an audit of infant cremations amid the national baby ashes scandal.
The figures showed that in cases of stillborn children, and children aged up to 24 months, 124 families did not receive any ashes.
The report also recommends "inaccurate" or unclear cremation forms be changed.
In December it emerged babies' ashes had been scattered in Edinburgh without the knowledge of their parents.
Concerns later emerged about crematoriums in Aberdeen and Glasgow.
After the issue was raised, Glasgow City Council said it would conduct a review of infant cremations.
Judge-led inquiry
Before the council reported, the Scottish government announced plans in April for a national commission, led by former high court judge Lord Bonomy, to look at the issue.
Glasgow City Council has now reported the findings of its audit of infant cremation cases stretching back 15 years.
The figures showed that in the last 15 years, 2,385 infant cremations were carried out at Linn and Daldowie.
No remains were recovered in 1,886 cases. In 303 cases, remains were recovered and returned to parents, following the instruction received.
In 164 cases, remains were recovered and dispersed in the garden of remembrance, following instructions received.
Of the 311 stillbirths during the period, remains were not recovered in 60 cases. In 152 cases remains were recovered and returned to parents and in 84 cases remains were recovered and dispersed following instructions.
Of the 235 infant cremations - aged between birth and 24 months - remains were not recovered in 64 cases. Remains were returned to parents in 115 cases with ashes recovered and dispersed,, following instructions, in 50 cases.
The council acknowledged that in 31 cases there had been "no clear instruction" or it had been unable "to locate the paper records".
Inaccurate forms
The authority said that its audit had found that the council form and NHS form used to apply for the cremation of a non-viable foetus (children born up to 23 weeks and six days gestation) were inaccurate.
It said the forms ask the applicant to agree - "I understand there will be no identifiable remains" - but that remains were recovered in about 4% of cases.
The audit recommended that the paperwork should make clear there was a small possibility of recovery and should ask parents want they want done in that eventuality.
A council spokesman said: "The audit shows that we try to recover remains whenever we cremate babies and infants and that in the vast majority of cases we faithfully follow the instructions we are given.
"We will continue to work with families who want to know what happened to their children's remains to help them get answers to their questions.
"While we will make some changes to our paperwork as soon as we can, we will await the outcome of the Scottish government's inquiry before we consider any major changes to our policies or practices.
"This has been incredibly distressing for families in Glasgow. There are undoubtedly cases where we dispersed children's remains when that is not what their parents wanted and for that we are sincerely sorry."