Joseph Townsley to stand trial over Frank Baxter lorry death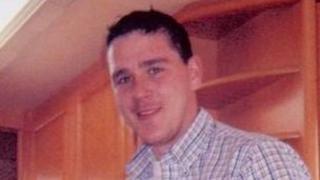 A man is to stand trial charged with murdering a young father by running him down with a lorry in North Lanarkshire.
Joseph Townsley, 62, is accused of killing 23-year-old Frank Baxter in Newmains, Wishaw, on 8 May last year.
He is also accused of attempting to murder 31-year-old Alexander Minto during the same incident.
Mr Townsley, from Wishaw, had his bail continued at the High Court in Glasgow. His trial is due to start at the High Court in Livingston in August.
Landscape gardener Mr Baxter was reportedly celebrating his wedding anniversary on the night he died.
'Ill will'
The accused is alleged to have driven into a garden in the street where Mr Baxter lived and struck him, causing his head to hit the wall of a house or the ground.
It is claimed Mr Townsley had previously "evinced malice and ill will" against the 23-year-old.
He faces a separate allegation that he threatened Mr Baxter on 2 May last year and brandished a baseball bat or similar item at him.
Mr Townsley faces a further charge that he attempted to defeat the ends of justice by fleeing the alleged murder scene and abandoning the lorry elsewhere in Newmains.