Misconduct doctor Colin Mainds can keep practising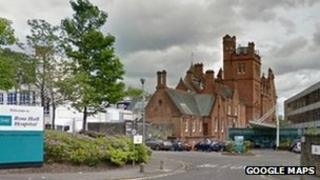 A spinal surgeon found guilty of misconduct over botched operations at a private hospital in Glasgow has been allowed to continue working.
Dr Colin Campbell Mainds, 56, failed to provide "good clinical care" to nine patients at BMI Ross Hall Hospital, Crookston, between 2008 and 2009.
He misplaced screws, carried out inappropriate surgery and performed surgery despite a normal MRI scan.
Dr Mainds will work under conditions, including supervision, for two years.
The Medical Practitioners Tribunal Service panel in Manchester found Dr Mainds fitness to practise impaired due to misconduct but decided his errors were not so serious that they could not be remedied.
'Unblemished career'
Tribunal panel chairman David Flinter said: "In coming to its decision the panel had at the forefront of its mind that your inadequate surgery had far-reaching consequences for nine patients.
"Undoubtedly, that undermined the trust of the patients, their relatives and their friends are entitled to place in the medical profession and they have a real potential to undermine that trust among the public at large.
"However, the panel recognise that the incidents took place over a limited period in an otherwise unblemished career as a consultant orthopaedic surgeon.
"The incidents occurred at a time when your workload had increased greatly in consequence of Ross Hall Hospital's contract with the Edinburgh Royal Infirmary under the waiting list initiative scheme."
Dr Mainds, from the Isle of Arran, admitted to 13 charges at the hearings.
The tribunal heard how the doctor carried out inappropriate surgery on a 20-year-old patient in July 2009 by using an implant unsuitable for someone of her age and condition.
Dr Mainds carried out inadequate surgery on three other patients, where spinal implants were incorrectly placed.
The panel found that he did not provide two patients with enough information to make an informed decision on the risks of treatment.
It was also found that he did not carry out an adequate examination of three patients before surgery.
During the hearings, Dr Mainds told the panel he was a "workaholic" who let his workload "spiral out of control" taking on up to 630 patients a year and performing more than 400 operations.
Close supervision
"It was ludicrous the pressure I was putting myself under and the workload I was trying to accept," he said.
"When this case arose I was in denial really, but I think over the period I have developed an insight into what went wrong.
"I am certainly aware of changes I would make."
He will now be subject to 19 conditions, including working under the close supervision of a consultant.
The doctor must also agree to the appointment of an educational supervisor.
The medic will be restricted to practising within the NHS and cannot undertake any private practice or take up locum posts for less than a three month period.
He must also inform the General Medical Council of any job he takes as well as informing his employers and patients that he is subject to conditions.