Glasgow's West End Festival to stage Mardi Gras parade again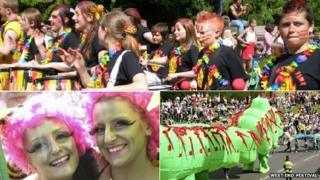 The 2013 Glasgow West End Festival will stage a Mardi Gras-style parade again after a successful fundraising drive.
The event was dropped last year after the rising costs of road closures, security and clearing-up could not be met from sponsorship income.
Organisers confirmed at the 2013 programme launch that funding had been secured and the popular street parade would go-ahead on 9 June.
The festival runs this year from 31 May to 30 June.
West end resident and founder of itison.com, Oli Norman, has pledged £15,000 to ensure the parade goes ahead.
'Huge fun'
Mr Norman said: "It was a huge blow to lose the Mardi Gras from the West End Festival programme last year.
"We saw the public appeal in the media and decided we had to make it happen.
"Not only is the Mardi Gras a huge amount of fun, it's also a great support to local businesses and communities."
The programme for 2013 includes more than 400 events in some 80 venues across the west end of Glasgow, ranging from music and theatre, to walks, talks and community galas.
Festival chairman Liz Scobie said: "The festival brings everyone out to have fun with friends and neighbours and it's impossible to put a price on that.
"The parade and the Gibson Street Gala are very special local events where people take over the streets that they walk along every day of their lives.
"Securing funding for the 2013 Mardi Gras was hugely important for the city."