Glasgow ranked UK's most violent area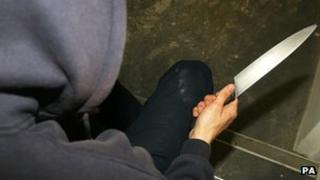 Glasgow has been ranked as the UK's most violent area in a new report.
The UK Peace Index, from the Institute for Economics and Peace (IEP), said the city had the highest rates of homicides and violent crime.
The study, which looked at 10 areas, described it as "the least peaceful major urban centre", with London and Belfast in second and third place.
However, researcher Steve Killelea said Glasgow had become much more peaceful over the past five years.
UK Peace Index
[6.1MB]
Areas were ranked according to the number of homicides and levels of violent and weapon crime, public disorder and numbers of police officers per 100,000 people.
In 2012 there were 2.7 homicides per 100,000 people in Glasgow. This compared to a 1.67 per 100,000 in London and a rate of 1.0 across the UK as a whole.
However, in 2007 Glasgow's homicide rate was much higher at about 4.5.
IEP founder and chairman Steve Killelea said: "It's not all bad news for Glasgow.
"If you look over the last decade it's actually more peaceful.
"Homicide rates are down 40%, while violent crime is down roughly 30%."
He compared this to Scotland as a whole, where over the past five years the number of homicides had only fallen by 25%, and violent crime levels cut by 10%.
"So on that basis, Glasgow is outperforming the Scottish average," he said.
"But it's coming from a much higher base."
The index put the trend down to an ageing population, a decrease in alcohol consumption, a rise in wages and changes in police practices.
The study said continuing problems with gangs and knife crime contributed to Glasgow's rating.
Describing the city as was one of the poorest areas in the UK, it said there was a strong link between crime and poverty.
Scotland had the highest homicide rate of any of the four UK nations, as well as the highest violent crime rate, at more than 1,500 per 100,000 people, the report said.
However, London was rated the most violent region overall.
Within Scotland, the Orkney Islands ranked the most peaceful followed by Aberdeenshire and Moray.
West Dunbartonshire and Renfrewshire were the most violent areas after Glasgow.
Ch Supt Bob Hamilton, head of the licensing and violence reduction division for Police Scotland, raised questions over some of the analysis in the report.
He said: "Some of the statistics used in this report are not current and have been recorded, collated and analysed in different ways in each force area so it is difficult to make accurate comparisons."
He pointed to the latest official Scottish crime figures, which showed that from 2010/11 until 2011/12 violent crime in Glasgow and the West of Scotland reduced by 23.4%.
He added that a "stop and search" approach had helped cut the number of people caught carrying an offensive weapon, and there had been 23% fewer fatal stabbings over the past year.