Summit discusses use of legal highs in Scotland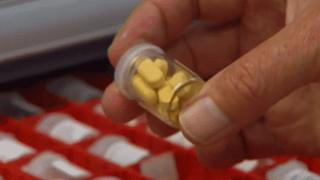 The dangers of legal highs - substances mimicking the effects of illegal drugs - have been discussed by police, health workers and the Scottish government.
The summit, in Edinburgh, also involved representatives of young people's organisations.
The aim was to assess the health issues associated with legal highs and identify actions to collectively combat the problem.
One of the difficulties faced is knowing how widespread their use is.
Those attending the conference, organised by the Scottish government, also discussed how these substances were being sold and used in Scotland.
Legal highs pose a major problem for police and legislators as illegal drugs manufacturers make new substances as quickly as governments can ban them.
They are sold as "bath salts" or "plant food" or labelled "not for human consumption" and they often have a large number of names.
Drug agencies believe their use is increasing but there is little reliable data or research into the long-term effects of taking them.
A number of legal highs have been banned, but users cannot be sure which brands remain inside the law and which are outside.
Community Safety Minister Roseanna Cunningham admitted it was a constantly evolving challenge for police and health workers.
"Despite a considerable amount of research into the effects of legal highs, much is still unknown about their longer-term impact," she said.
"It is crucial that experts and professionals can come together to fully explore the issues around these substances and their use and ensure we do all we can to stop their sale, reduce their demand and ensure our services are enabled to respond."
'Tragic consequences'
Ms Cunningham said that although reclassification of drugs was reserved to the UK government, the Scottish government was working with the Home Office and police to identify and tackle the supply of new kinds of legal highs that threaten public health.
"This is a constantly evolving challenge due to the apparent ease with which legal highs can be produced and sold, and the continuing emergence of new drugs," the minister added.
"Sadly, all too often we have seen and heard about the tragic consequences of taking legal highs."
David Liddell, director of the Scottish Drugs Forum, said: "The key issue - and the main concern - with so-called legal highs is that people who use them cannot be sure about what they are getting.
"Products are being marketed with trade names, with professionally produced packaging and so on, but there is no guarantee that what you buy in one transaction is the same thing you buy in another."
He said it was important for agencies to have an accurate and up-to-date picture of patterns of use.
"But this is a real challenge, as we have a moving target," he added.