Lynda Spence trial: Family heartache over 'terrible ordeal'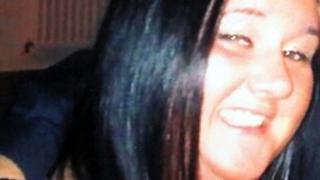 The parents of Lynda Spence have spoken of their "heartache and pain" over the "terrible ordeal" she suffered at the hands of her killers.
Jim and Patricia Spence said they could not "understand or forgive" Colin Coats and Philip Wade for the "cruelty" they inflicted on their "kind" daughter.
The pair, both 42, were convicted at the High Court in Glasgow of abducting, torturing and murdering the financial adviser, 27, in April 2011.
Her body has never been found.
Co-accused David Parker and Paul Smith admitted assaulting Ms Spence and holding her against her will at a flat in West Kilbride, North Ayrshire.
Harrowing details
The court heard how Ms Spence was held at the flat for two weeks, tied to a chair and not allowed to go to the toilet.
Throughout the lengthy trial, jurors heard harrowing details of how her kneecaps were smashed, her hands branded with an iron and her thumb chopped off.
Following the convictions of Coats and Wade, Lynda's parents Jim and Patricia released a statement telling of their heartache over her murder.
"There is no verdict that will bring our daughter Lynda back or spare her the terrible ordeal that took her life," the couple said.
"We will never begin to imagine her suffering or comprehend the cruelty of any person who would do that to another human being.
"We cannot begin to understand or forgive what they did to our daughter, Lynda. No words can begin to describe the heartache and pain we are suffering."
In the statement, Lynda's parents thanked the police and prosecutors who had worked to bring their daughter's murderers to justice.
It concluded: "Lynda was a warm, kind and thoughtful daughter and was someone who always had time for others.
"We miss her so much."
The officer in charge of the murder investigation, Det Supt Alan Buchanan, said he was "pleased" with the guilty verdicts.
He said: "I hope in some small way this will bring some satisfaction to Lynda's parents who have had to endure the pain of hearing the graphic details of the horrific torture and terror inflicted on Lynda in her final days.
"Although satisfied with the verdict, the pain for the Spence family continues as due to the actions of the accused, Mr and Mrs Spence have been unable to lay their daughter to rest.
"At this time I would appeal for those convicted to show some common decency and tell us where Lynda is in order that we can get her back to her parents and allow them to grieve properly and move some way towards rebuilding their lives."