Go-ahead for £228m City of Glasgow College campuses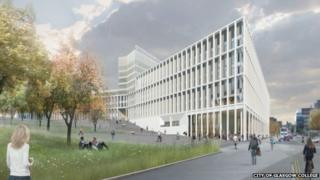 Scotland's largest college has been granted planning permission to build two new campuses in central Glasgow.
The £228m plan will see City of Glasgow College redevelop its existing sites on Cathedral Street and at Thistle Street.
The super college was formed in 2010 through the merger of Central, Metropolitan and Nautical Colleges.
Construction of the two new campuses - which will accommodate more than 40,000 students and 1,200 staff - is due to begin in the summer.
College Principal Paul Little said: "For many people, it's finally dawning on them that this dream has come true.
"The scale of what we are planning is amazing and will set Glasgow apart as a city truly committed to further education."
Glasgow City Council leader Gordon Matheson added: "The two new campuses will transform the city skyline and are helping lead the regeneration of the city centre."