Lidl overturns five-day alcohol ban at Govanhill store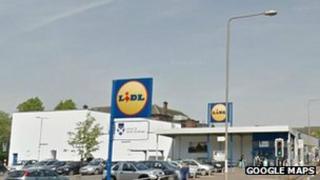 Appeal court judges have ruled Glasgow Licensing Board was wrong to suspend a Lidl store's drinks licence after it sold a bottle of wine to a teenager.
The Lidl store in Victoria Road, Govanhill, was given the five-day ban after selling alcohol to a Strathclyde Police underage "test purchaser".
Judges at the Court of Session have now overturned the ban.
They said it was effectively a punishment rather than the result of pursuing licensing objectives.
The long-running legal row began in February 2011 when police decided to test the Lidl store by sending a 16-year-old to attempt to buy alcohol.
Manager sacked
Shop manager Gary Singleton, on duty at the checkout, rang the bottle of rose wine through his till without asking for any ID or proof of age. He was later sacked.
Strathclyde Police said it carried out a number of "test purchases" in the area after complaints about problems linked to under-age drinking in the area.
All the other shops targeted by police refused to serve the youngster.
Police used the result in the Lidl case to ask Glasgow's Licensing Board to review the store's licence.
The result was that Lidl was handed a temporary ban on selling drink from its Victoria Road branch.
The supermarket chain appealed unsuccessfully to Glasgow Sheriff Court before taking the case to the Court of Session in Edinburgh.
Appeal judges Lord Eassie, Lord Mackay of Drumadoon and Lord Wheatley have now overturned the ban.
In their written judgement, the judges said it was difficult to identify "any cogent reason" why the five-day ban should have been imposed.
They concluded: "We are therefore left with having to draw the virtually inevitable inference that the objective of the respondents (Glasgow Licensing Board) in suspending the licence for five days was to impose a financial penalty on the premises licence holder on the sole basis that one employee had departed on a single instance from the employers' procedures and instructions."