New Cumnock wins Carbuncle award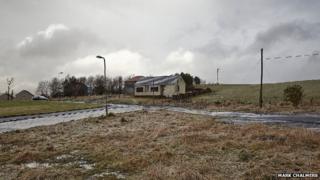 New Cumnock in East Ayrshire has been named "Scotland's most dismal town" in the annual Carbuncle awards.
The town becomes the latest recipient of the Plook on a Plinth, awarded each year by Urban Realm magazine.
Judges highlighted the "haemorrhaging of shops" and "a general absence of maintenance on derelict properties" as reasons for choosing New Cumnock.
Runners up in this year's Carbuncle awards were Fort William, Motherwell, Kirkintilloch, Newmilns and Paisley.
The Plook on a Plinth award was established in 2000 to provoke debate about the quality of development in many of Scotland's towns and cities.
'Two steps back'
New Cumnock was last nominated in 2009, when it was passed over for Glenrothes in Fife.
Urban Realm said that since then, the former coal-mining town had "taken one step forward and two steps back".
It said the "completion of an impressive new primary school" had been "overshadowed by the threatened closure of its town hall" and the "sell-off of the Arthur Memorial church - on its 100th anniversary".
The magazine said: "These losses have been compounded by the continued haemorrhaging of shops on the High Street and a general absence of maintenance on derelict properties, raising the very real risk that a tipping point into irreversible decline could be reached soon if action isn't taken now."
Urban Realm editor John Glenday said judges had warmed to the "plight" of local people whose energy was "as strong as ever".
"We have been following New Cumnock and the challenges they face for four years now, giving us a real sense of perspective on the challenges faced," he said.
"As the Carbuncles Award has matured, however, so too has our approach and we believe that with the help of this award we can dig New Cumnock out from the back of the proverbial couch and put it to the fore of regional and national policy.
"More than an escape valve for pent up frustrations, the Carbuncles are a springboard to tangible improvements.
"There are no quick fixes, however, and I make no pretensions to the contrary. It has taken years for New Cumnock to get to this point and it will take years to put right but the sooner these issues are tackled the sooner they can be resolved."
Urban Realm highlighted the challenge posed to New Cumnock "from the Prince Charles-backed Knockroon development".
It said this "threatens to suck the remaining life from the town".
The magazine said New Cumnock needed to "reassess a policy of managed decline which is in danger of becoming a self-sustaining prophecy".
It recommended the town seek a "new role in the wider Ayrshire economy, be that as a tourism destination or commuter town courtesy of its excellent rail connections".
Local resident and historian Geoff Crolley, who accepted the Carbuncle award on behalf of New Cumnock, said: "Towns like New Cumnock have given so much to businesses and what do we have to show for it?
"We need help to regenerate the town but can't do it all by ourselves and thankfully some companies are offering help and advice. 2013 is our turning point."