Photographer Margaret Watkins honoured with Canada Post stamp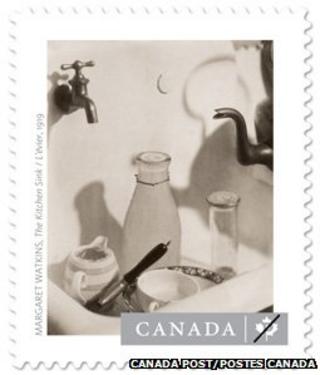 One of the most acclaimed photographers of the 20th Century is being honoured with a stamp.
Margaret Watkins was born in Canada but died as a recluse in Scotland in 1969, leaving her photographs to a next-door neighbour.
Joe Mulholland spent years championing her work and a major retrospective exhibition was recently staged at the National Gallery of Canada.
Canada Post is now releasing a stamp in her honour.
It features a messy kitchen sink, which divided opinion when it was first shown in 1919.
Watkins was one of the most acclaimed photographers in North America at the turn of the 20th Century, but she gave it all up, moving to Glasgow in 1928 and never returning home.
International attention
She was born in Hamilton, Ontario, in 1884 after her parents had moved from her mother's family home in Hyndland in Glasgow's west end.
At 24 Watkins left Canada to make a new life for herself in the US where she took up photography and, in 1913, enrolled in the Clarence White School of Photography, the foremost school of pictorial photography in New York.
Her work received attention in photographic publications, in the New Yorker and in Harper's magazine, and Watkins went on to be exhibited throughout the US, in Japan, at the Paris Salon and in the Royal Photographic Society in London.
She taught some of the greatest names in art photography, including Paul Outerbridge and Margaret Bourke-White, whose images of Gandhi and the Chrysler Building in New York are amongst the best known photographs ever produced.
Box of photographs
Watkins came to Glasgow in 1928 to visit her aunts, intending to stay for a year, but remained until her death 41 years later.
Her work as a photographer was unknown in Scotland and not long before her death she gave a box to her neighbour, Mr Mulholland, on the condition he did not open it until after she died.
It contained more than 1,000 photographs, many with exhibition labels, and among them were some of her New York kitchen.
Mr Mulholland has worked for 40 years to re-establish her reputation and recently the National Gallery of Canada staged its exhibition.
Canada Post issues a stamp featuring Watkins' Kitchen Sink on Friday.
Marc Mayer, director of the National Gallery of Canada in Ottawa, will also be in Glasgow to celebrate the honour.