Events mark birth date of explorer Dr David Livingstone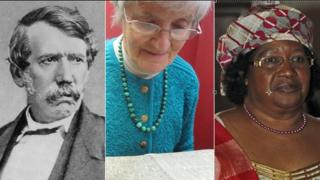 Events are being held in Scotland and London to mark the 200th anniversary of the birth of Scottish missionary and explorer Dr David Livingstone.
Representatives from the governments of Scotland and Malawi will attend a day of events at the David Livingstone Centre in Blantyre, South Lanarkshire.
A memorial service will also be held at Westminster Abbey in London, where Livingstone was buried in 1874.
Other bicentenary celebrations will also be held in Africa.
Dr Livingstone grew up in poverty but went on to explore central and southern Africa where he became the first European to "discover" and name Victoria Falls, advanced the use of quinine to fight malaria and campaigned to end slavery in east Africa.
Time capsule
He died from malaria on 1 May 1873 in an area of Chief Chitambo's village in Ilala, south-east of Lake Bangweulu, in present-day Zambia.
His life will be celebrated on Tuesday at the David Livingstone Centre - based at the explorer's birthplace in Blantyre.
Local school children will bury a time capsule which includes material provided by children from Chilamba Primary School in Dedzaron, Malawi.
Much of Dr Livingstone's work as a missionary and doctor was in what is now Malawi.
The centre will also open a new exhibition, The Nyangwe Diary: Shining new light on Livingstone, which opens on Tuesday.
It is the first time original pages of the diary that Livingstone wrote in 1871 will be on show to the public.
Malawi President Joyce Banda will address the Scottish Parliament before joining First Minister Alex Salmond on a visit to the centre in Blantyre.
A partnership - David Livingstone 200 - has been involved in events to mark the bicentenary.
Project leader Nat Edwards said: "Livingstone was a truly remarkable and inspirational man - and it is even more inspiring to think that he took his inspiration from the countryside, history and people of Blantyre.
"It is absolutely fitting that the centre of his 200th birthday celebrations is right here in Blantyre, where this wonderful, continent-crossing story began. We want David Livingstone 200 to be a fitting celebration for a great man with an equally fitting legacy.
"We want to strengthen relationships between Scotland and Africa; to renew interest in David Livingstone among all our nations and to make sure that this amazing museum can be sustained to inspire future generations for years to come."
President Banda will be guest of honour at the Westminster Abbey service, which will be attended by Livingstone's 84-year-old great-granddaughter Elspeth Murdoch.
Modern-day explorers John Blashford-Snell and Sir David Attenborough will also attend.
Ms Murdoch lives in Buchlyvie, Stirlingshire, but was born at a medical mission in Africa.