Lynda Spence trial: Alleged injuries would be 'painful'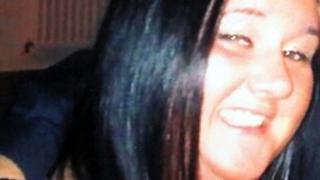 A doctor has told the Lynda Spence murder trial that injuries allegedly suffered by the missing businesswoman would have been "painful".
Dr David Ritchie was giving evidence at the High Court in Glasgow, where Colin Coats and Philip Wade, both 42, deny abducting, torturing and murdering the 27-year-old old.
The 58-year-old consultant surgeon said that having a thumb or the tip of a finger amputated would be "painful".
The trial continues.
Mr Coats and Mr Wade are alleged to have held Ms Spence at a flat in Meadowfoot Road, West Kilbride, Ayrshire, for up to two weeks,.
'Subjective' measurement
It is claimed they cut off her thumb, crushed her toe, burned her with an iron, severed the tip of her little finger and beat her with a golf club to extract financial information from her.
Dr Ritchie, a consultant surgeon in the accident and emergency department of Victoria Infirmary in Glasgow, told the court that having a thumb or the tip of a finger amputated would be "painful".
He said that all of these injuries would have been sore, with the amputations and burns possibly leading to infections and further discomfort if they were not cleaned or dressed properly.
"It is very difficult to measure pain as it is subjective but in all these cases it is a painful injury," he said.
Some bleeding would have been likely but if pressure was applied to the amputation, or if the severed artery went into spasm, the volume of blood may not have been large, he said.
It has been alleged during the trial that Ms Spence was taped to a chair for 13 days, in the same position and without being allowed to use a proper toilet.
Dr Ritchie said he has no experience of seeing someone confined to one place for this length of time but he told the jury it is possible that someone in this situation would have pressure sores which could be worsened by the presence of urine.
'Covert source'
Solicitor general Lesley Thomson QC, prosecuting, asked the consultant if the police would be contacted in a case where a patient was taken to hospital with all of these injuries.
He replied that they would. The court has heard evidence that Ms Spence's legs were beaten with golf clubs.
Dr Ritchie told jurors this act could result in anything from bruising to fracturing, depending on which part of the club was used and the force applied.
Under cross-examination, Mr Wade's defence QC, Gary Allan, pointed out that the court was getting close to asking the doctor to "speculate" about a number of things.
Later, the detective in charge of the search for the missing financial adviser said that after 10 weeks he believed he was dealing with a murder inquiry.
Ms Thomson asked Det Supt Alan Buchanan if the focus of the inquiry had changed at some point and the officer replied: "On August 15, as a result of information that came to us from a covert source."
Ms Thomson asked if there had been any sightings of Ms Spence after she disappeared and the detective said they had all be investigated.
Mr Allan, representing Mr Wade, asked how Det Supt Buchanan could be confident that Ms Spence was not alive.
The QC said: "All she would have to do is change her hair colour, change the type of clothing she wore, wear more make-up. If she didn't want to be found all she had to do was change her name and appearance," and the detective replied: "That's right."
Mr Allan added: "When police talk about conducting a proof of life inquiry what you are talking about is putting a name into the system and seeing what it spits back."
Det Supt Buchanan said: "Yes that's right, but it's also about friends and family, people she hasn't contacted."