Anna Dyer sues Labour Party over sex and age discrimination claims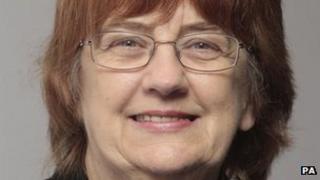 A woman is suing the Labour Party after claiming she was not selected to stand as a candidate because she is too old.
Anna Dyer, 63, has lodged a civil claim for £18,000 against the party at Glasgow Sheriff Court, citing age and sex discrimination.
The papers state Ms Dyer has "sustained loss, injury and damage and, in particular, injury to feelings".
Ms Dyer was not selected to the panel of candidates for last year's local government elections.
However, she had been approved as a list candidate for the Scottish Parliamentary election in 2011 but was not elected.
Ms Dyer, from the Kelvinside area of Glasgow, has been a member of the party since 1980.
The court papers state she was interviewed in August 2011 for selection to the panel of candidates for the council elections but received feedback saying that some of the answers to the questions were "unsatisfactory".
Scoring system
She received an email with two weaknesses identified - "personal effectiveness" and "political judgment".
Ms Dyer claims she appealed against the decision and questioned the scoring system - and that she wrote to the party's general secretary, Colin Smyth - but received no response.
In the papers, she claims that candidates are required to carry out regular canvassing in a ward and make contact with 300 individuals by door-step or telephone canvassing each month.
The papers state that it "placed female candidates at a particular disadvantage in comparison with male candidates".
"Female candidates were more likely to be participants of and contributors to voluntary and community organisations and school parent associations than men and were more likely to have caring responsibilities and accordingly had greater pressure on their personal time," the papers say.
They also state that "such a failure to achieve targets was likely adversely to affect those candidates' prospects of selection onto the panel of local government candidate able to be selected".
Ms Dyer also claims that: "The majority of rejected candidates and councillors were over the age of 50.
"The defenders were motivated consciously or subconsciously by age of candidates in determining which candidates would be chosen for the panel."
The Labour Party is challenging the claims.