Horse DNA found in school burger leads to stock withdrawal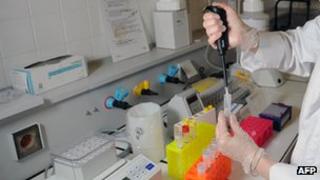 Traces of horse DNA have been found in a frozen burger within a school kitchen in North Lanarkshire.
Procurement agency Scotland Excel has, as a result, advised Scotland councils to "place a hold on the use of all frozen beef burger products".
It is the first such discovery following widespread local authority testing resulting from the discovery of horsemeat in the UK food chain.
The Food Standards Agency has been advised and "investigations continue".
Rural Affairs Secretary Richard Lochhead said: "It is unacceptable that a burger which has tested positive for traces of horsemeat was supplied to a school in North Lanarkshire.
"However, North Lanarkshire Council have taken immediate action to withdraw the product from the schools and, as a precautionary measure, all Scottish schools have been advised to put a hold on the use of frozen burgers.
"Of the thousands of tests, this is the first positive result in our schools, but it is one too many.
"No company should be supplying our schools with food with beef products that contain traces of horse meat."
'Very concerned'
A Scotland Excel spokeswoman said it is "very concerned to learn of this incident despite the steps taken by our suppliers to provide assurances on their processed meat products".
North Lanarkshire Council stated: "Samples of frozen mince removed from storage in North Lanarkshire school kitchens have tested negative for horse DNA.
"However, traces of horse DNA have been detected in a frozen burger removed for testing last week from a school kitchen within North Lanarkshire.
"Our investigations are focussing on the use of frozen burger supplies during the past three months, the maximum length of time these would be held in storage."
It is not known who manufactured the North Lanarkshire burger, but a supplier that discovered horse DNA in one of its products elsewhere said no horsemeat has been found in meals it supplies to Scottish schools.
Renfrewshire Council had withdrawn products sourced from the Brakes Group over the horse DNA detected in lasagne the firm produces for a pub company.
The council said it had removed Brakes items as a precaution until results of an investigation were known.
Brakes said all beef ranges supplied to schools had tested negative for horse.
"Brakes has today confirmed that all 127 of the Brakes branded beef products that are provided by Brakes for use in Scottish schools have tested negative for equine DNA," said a company spokesman.
"Brakes is currently sharing the results with local authorities and hopes that schoolchildren will soon be able to enjoy beef as part of their school dinners again."
Retailers have agreed to carry out testing of beef products in the wake of horsemeat contamination concerns after several high-profile discoveries in supermarket and food manufacturers.
Council testing
Renfrewshire Council said its food suppliers were sourced through Scotland Excel, while North Lanarkshire Council said it disposed of 20 portions of Brakes lasagne last week after they were recalled by the catering firm.
Other councils across the country have also tested products in the wake of the scandal.
Fife Council leader Alex Rowley said there was "no risk" of school meals in the region containing traces of horsemeat, while Tayside Contracts, which caters for schools across Dundee, Angus and Perth and Kinross, said there was "no evidence" to suggest its meals contained horsemeat.
Borders Council said it has been assured by suppliers that they did not use any of the companies so far affected affected by the situation, while Edinburgh City Council said it had checked school dinners and found no samples that caused concern.
Shetland Council said schools and care homes were supplied with meat rather than processed meals - and tests showed it was not affected.
Moray and North Ayrshire councils also said it sourced meat locally and prepared meals on site.
West Dunbartonshire said food safety officers were carrying out inspections on four meat production plants in the area but that meals supplied to school canteens and council care homes were not affected.
Highland Council said its fresh beef, lamb and pork was sourced, slaughtered and prepared in the Highlands.
The local authority said it could also give assurances on schools' chilled, frozen and processed foods.
A spokeswoman said: "Chicken burgers are made from fresh British chicken locally by our butcher.
"Processed beef products currently on our contract listing have been tested for equine DNA and have been proven negative by all suppliers."
She added that fish fingers and salmon nibbles were compliant with Fish For Life and Marine Stewardship Council-certified from sustainable fishing practices.