City of Glasgow Council sets budget plans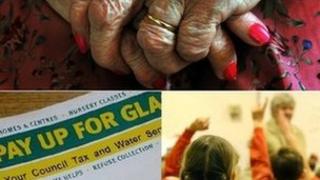 Glasgow City Council has passed a budget which is says will invest in schools, social care and roads over the next two years.
Councillors approved the plans which include an £80m investment in primary schools, £11m for child care and a commitment for two new care homes.
The council said it had to make more than £70m in savings but could still invest due to "prudent stewardship".
The council leader has talked of the "severe pressure" put on its finances.
Gordon Matheson said: "Our budgets are under huge pressure; but we can't afford to let that limit our ambition and our commitment to communities.
"We are focusing on our priorities, which we share with our fellow Glaswegians - investing in education and in care, in jobs and in roads and transport."