Warning over stained mattresses at Hairmyres Hospital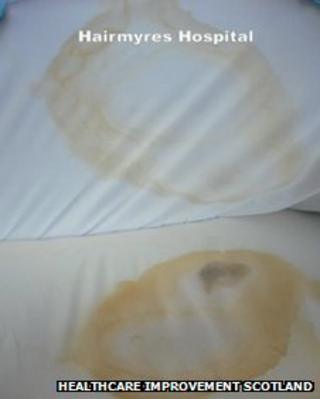 Inspectors have ordered a health board to tighten procedures after badly stained mattresses were found on wards at Hairmyres Hospital in East Kilbride.
The problem was identified during an unannounced visit on 28 November 2012.
Healthcare Improvement Scotland inspectors said that overall the hospital was clean and complying with national standards to protect patients.
NHS Lanarkshire said it had a "comprehensive action plan" in place to address the inspectors concerns.
Speaking of the report, chief inspector Susan Brimelow said: "Overall we found that NHS Lanarkshire is complying with standards to protect patients, staff and visitors from the risk of acquiring an infection.
'Good compliance'
"We found that the hospital was clean and there was good compliance with national dress code and hand hygiene practice. In addition, ward staff provide a meet and greet service for patients' visitors.
"We also identified some areas for improvement however, including that an effective system for auditing mattresses must be in place on all wards and departments. We expect NHS Lanarkshire to address this as a matter of priority."
Heather Gourlay, infection manager at NHS Lanarkshire, said the authority was "pleased" that inspectors had found the hospital was clean and complying with national standards.
She added: "We will ensure we continue to improve our current performance and have in place a comprehensive action plan to address the inspectors' requirements and recommendations.
"Many of these actions are already complete or underway. All senior charge nurses have been reminded of the importance and process for auditing mattresses with additional monitoring being put in place.
"Staff have also been reminded of the importance of ensuring condemned equipment is appropriately labelled and a quality assurance audit process is being introduced to monitor this."