Hunterston carbon capture planning appeal to be heard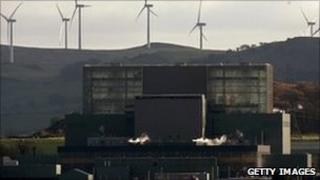 Objections to a controversial plan for a new coal-fired power station in Ayrshire will be heard at the Court of Session later.
Local campaigner Marco McGinty is appealing the 2011 ruling of the court which found in favour of the development.
Ayrshire Power withdrew its planning application for a new coal power plant at Hunterston last summer.
However, the site remains ear-marked for that type of development.
Mr McGinty's original challenge was supported by wildlife and environmental campaigners.
His lawyers objected to the original plans saying the local community was not sufficiently consulted during the application. Since then more than 22,000 objections have been received.
The original legal challenge failed because Mr McGinty, from Saltcoats, who lives near where the coal plant would be built, was not deemed to have a sufficient interest in the case.
He is appealing that decision.
Planning framework
Mary Church from Friends of the Earth Scotland, who are supporting Mr McGinty's bid, said: "The best decision making happens when communities are properly engaged and involved from the outset. Unfortunately, this doesn't always happen, and sometimes people have to resort to legal action to defend their community and the environment.
"When the system fails to protect the environment, it's up to communities and brave individuals like Marco to do it.
"When people take legal action in the public interest like this they shouldn't be faced with financial ruin and archaic technicalities."
Hunterston was ear-marked as a site for a potential coal-fired carbon capture and storage (CCS) power station to replace the current facility.
The planning application was withdrawn in June 2012 with the company involved, Ayrshire Power, blaming the economic downturn and financial "uncertainty".
The site was designated for a new coal-fired power station in the Scottish government's National Planning Framework (NPF), which deems the site nationally important and limits the powers of local people to object.
The Scottish government said it would not comment before the case had been heard.