Lynda Spence trial: Mother's tears for missing daughter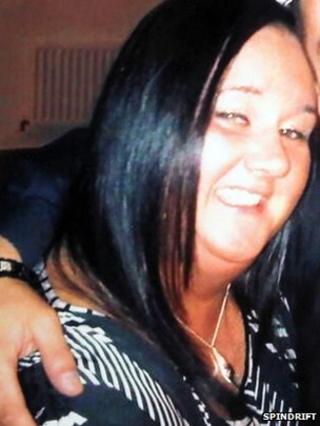 The mother of missing financial adviser Lynda Spence has broken down in tears as she told a murder trial jury: "She was my life."
Patricia Spence, 56, told the High Court in Glasgow: "I just keep thinking she is going to come back."
Mrs Spence was giving evidence in the trial of Colin Coats, David Parker, Paul Smith and Philip Wade.
The four men deny abducting, torturing and murdering Ms Spence at a flat in West Kilbride in April 2011.
Mrs Spence told the High Court in Glasgow: "I only had the one lassie. She was my life."
Later the court was halted for the afternoon after she wept again as she looked at telephone texts she had sent to her daughter's business associates in the wake of her disappearance.
She sobbed: "I'm sorry. It was just reading these texts."
In evidence, Mrs Spence told Solicitor General Lesley Thomson QC that she was an "overprotective mum" and said she used to text or phone her daughter every day.
She added: "We were very close. She was like my friend - my best friend."
The jury heard that Ms Spence worked in a TSB call centre after leaving school and then worked with the Co-operative Bank before moving to HSBC. She then set up in business for herself as a financial advisor.
When she disappeared on 14 April 2011 Ms Spence was living in Ruchill. Her parents reported her missing on 13 May 2011.
In court, her mother told of how generous she was to her parents saying she had bought them a caravan as an anniversary present and added that she had paid the rents of flats they lived in.
Mrs Spence said the last time she saw her daughter was about 18:00 on 13 April 2011 when she arrived at her parents home with flowers as it was her mother's birthday.
She added: "I was kissing and cuddling her and said: 'Where are we going?' She said she was busy. She never said anything was wrong, but she was dead tense."
Driving to London
Mrs Spence was asked by Ms Thomson what normally happened when a family member had a birthday and she said: "We went out for a meal. We made a large thing of it."
The mother said that her daughter, and her friend Amelia, only stayed for about 10 or 15 minutes and added: "She said she would be back in half an hour and she never came back. I just thought never mind."
The jury heard that the next day Mrs Spence went for a breast scan and got the all clear.
She said: "I phoned her and said do you want to go for lunch and she said: 'I can't mum I'm in a meeting.'"
The court heard on April 14 2011 Mrs Spence texted her daughter and received a reply saying she was driving to London.
She said she then sent her a number of texts and was given updates about the journey.
It was minutes later when Mrs Spence was shown transcripts of text messages she had sent to Mr Tony Kelly asking him about her daughter's whereabouts that she broke down sobbing.
Strip naked
Mrs Spence told the jury that she only realised that her daughter had married Albanian Sokal Zasfaj when she was looking for a CD in her car and came across a business card with the name Lynda Zefaj on it.
Mrs Spence said she asked her daughter about it and she told her: "I married him, get over it."
She said her daughter met Mr Zefaj when they both worked for the Co-operative Bank.
The court heard that Mrs Spence met Mr Zefaj a few times with Linda, but said he wasn't someone you could have a conversation with and added: "He was always carrying on."
Earlier the court heard evidence from printer Amash Shah Syed, 50, about an alleged meeting to discuss fake Danish government bonds.
Mr Syed said he had asked one of the men accused of murdering Ms Spence, Colin Coats, to strip naked as he was worried he may have had weapon.
Mrs Spence is due to resume giving her evidence on Tuesday.
The trial before judge Lord Pentland continues.