Lynda Spence trial: Missing woman was 'sent text threat'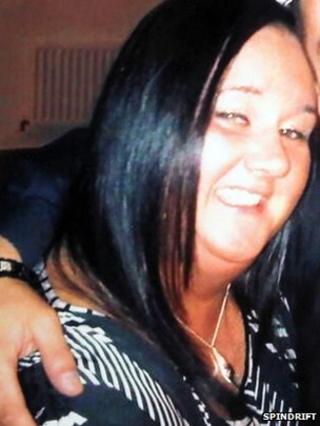 The Lynda Spence murder trial has heard that the financial advisor was sent a text threat that she would be chopped up on the day she went missing.
The High Court in Glasgow was told that the message was sent from Crown witness John Glen's phone.
Ms Spence's former employee, Tony Kelly, claimed that she was "consistently under threat from John Glen for several months".
Colin Coats, David Parker, Paul Smith and Philip Wade deny murder.
Financial adviser Mr Kelly, 46, was giving evidence for a third day at the trial.
During his cross-examination, defence counsel Derek Ogg QC, read out a text that was sent to Ms Spence from Mr Glen's phone on 14 April 2011 at 09:18.
It read: "Listen stupid, be warned school fees paid today 10, yesterday 10, 0 down. He will chop you up Lynda at 2pm today if that 20 isn't there cash. I will help him sort you as he says it's my responsibility as I brought him in. If you don't show, no problem. I will sort things myself."
Text allegations
Mr Ogg said to Mr Kelly: "That is a reference that, if sums of money are not paid by 2pm, he is willing to chop her up and John Glen will assist him." He replied: "That's what it says."
The QC also read out another text that was sent from Mr Glen's phone on 4 October 2010.
Part of the text read: "Lynda if you don't wisen up when someone is dragging you out of bed and cutting off your fingers."
Mr Kelly was asked about these texts and said that Ms Spence had told him she was receiving threats from Mr Glen.
"She was consistently under threat from John Glen for several months," said Mr Kelly. "She said to me at one time she's been threatened by John Glen and that she would be chopped up."
The financial adviser denied being involved with Ms Spence in a multi-million pound fraud and said he did not realise that Government of Denmark bearer bonds in the sum of £3.2m and £3.6m were fakes.
Printer Amash Shah Syed, 50, told the court that Ms Spence, who was very friendly with his wife, came to his home in late summer or autumn 2010 and asked him to make the bonds as a prank.
Mr Syed told Solicitor General Lesley Thomson QC, prosecuting: "She said she just wanted it as a prank. For a small amount.
"Then she asked for some more zeros to be added and she was laughing."
Ms Thomson asked what sort of prank and Mr Seyd said: "I think she just wanted to play a prank on someone. We had quite a laugh and joke about it."
Internet images
He added that Miss Spence went on the internet and asked him to download images to put on the document.
In court, he was shown copies of the fake bearer bonds and agreed they were the ones he had made up.
Mr Syed told the court that, during the first week of June 2011, Mr Kelly came to his Glasgow home and asked if he could change the date on the bearer bonds.
The witness said that he told Mr Kelly he would not do this and Mr Kelly had a conversation on the phone with a man called Colin.
Mr Syed said, minutes later, this man came into his house shouting and swearing and threatening him if he did not agree to do this work.
The witness said that he had a coffee table with a glass top and said the man called Colin threatened him with it.
"He said: 'I'll smash that over your head and cut your arm off and you'll never be able to work again'," said Mr Syed.
He claimed that Colin then started shouting at his wife and daughter.
Mr Syed said that the man finally left after he agreed to carry out the work, but he told the court he never did change the date on the document.
When asked if he could see the man he described as Colin in the courtroom, he said: "I don't see him in court. Not the man who was Colin."
The jury has heard that Ms Spence disappeared on 14 April 2011 and was reported missing by her parents on 13 May 2011.
Mr Coats, 42, Mr Parker, 38, Mr Smith, 47, and Mr Wade, 42, deny abducting, torturing and murdering Ms Spence at a flat at Meadowfoot Road, West Kilbride, between 14 and 28 April 2011.
The trial before Lord Pentland continues.