Lynda Spence trial: Colin Coats 'admitted killing'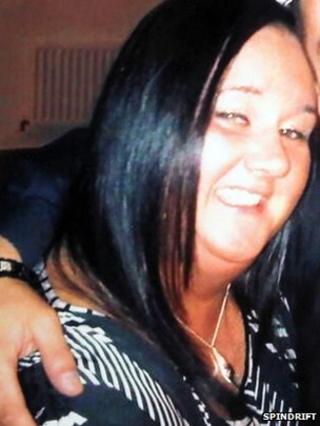 One of four men accused of murdering a missing financial adviser admitted killing her, a court has heard.
Tony Kelly a former employee of Lynda Spence, told the High Court in Glasgow that he met Colin Coats two weeks after she was last seen alive in April 2011.
He claimed Mr Coats told him that Ms Spence owed him £68,000 and that he had killed her "the previous Thursday".
Mr Coats, David Parker, 37, Paul Smith, 47 and Philip Wade, 42, deny murder. The trial continues.
Mr Kelly, 46, told the court that he met Mr Coats in a cafe in Broomhill, Glasgow, to discuss Ms Spence's financial dealings about two weeks after she disappeared.
'Kind of numb'
He was asked by Solicitor General Lesley Thomson QC, prosecuting, what was said by Mr Coats at that meeting.
The witness replied: "When we got into the car park, he told me he had actually killed Linda the previous Thursday."
Mr Kelly was asked what his reaction to being told this was and he replied: "I was kind of numb. Stunned. I didn't know what to say or what to ask."
Ms Thomson then asked what Mr Coats had said previously at the meeting.
He replied: "It was a discussion of money that he might have been due out of the dealings with Juan Carrera.
"I said the money would be due to her and that's when he told me what he had done."
The Solicitor General said: "What were his exact words." Mr Kelly replied: "You don't have to worry about that. I killed her last Thursday."
Mr Kelly was asked if he did anything after being told this and said: "I went home."
He was then asked if he had told anyone and replied: "Absolutely not."
Under further questioning from Ms Thomson, the witness said the first people he had told about this were the police.
Alleged threat
The court heard that this was the second time that Mr Kelly had met Mr Coats in the cafe following the disappearance of Ms Spence.
Mr Kelly said that Mr Coats had become involved after Ms Spence's parents, Jim and Pat, had allegedly been threatened by John Glen, who she owed money to.
The court was told that Mr Coats had been involved in reassuring Ms Spence's parents, who were worried about her disappearance, that they would not be bothered by Mr Glen.
Speaking of the meetings in the Broomhill cafe, Mr Kelly said: "He wanted to know about Lynda's financial dealings with everyone.
"I gave him the background with what she had been up to with my clients and the Chinese clients.
"I didn't know anymore about what she had done with John Glen or anyone else."
He said that Mr Coats told him that Ms Spence owed him £68,000 and said that the interest was growing daily.
Mr Kelly added: "At that stage, I was shocked with anything I was hearing about Lynda's financial dealings."
He said that Mr Coats seemed to be annoyed that Ms Spence appeared to have used money he gave her to pay back Mr Glen - in excess of £40,000.
Mr Kelly was asked what Mr Coats had said about Ms Spence and stated: "Just that she appeared to be a liar and a rip-off merchant."
The trial before Lord Pentland continues.