'Brave' director Mark Andrews to mentor at Glasgow School of Art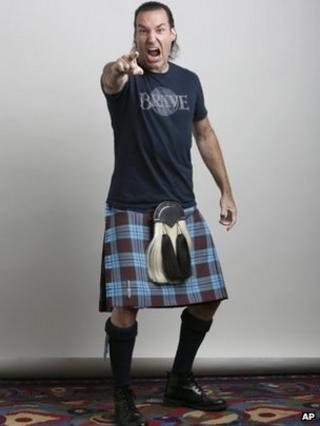 The director of Disney-Pixar movie Brave is coming to Scotland to mentor students at Glasgow School of Art.
Mark Andrews will share his expertise with students from 8 to 19 April.
The film-maker, whose ancestors came from Torridon, in Wester Ross, said he was "thrilled" to return to Scotland.
"Brave could not have been made without Scotland, and I'm thrilled to come to The Glasgow School of Art to give back to the people and the place that so moved me," he said.
Andrews is one of the leading film-makers at Pixar Animation Studios and was its "go-to man" for all things Scottish during the making of Brave.
His Scottish ancestry has fuelled an interest in the country since boyhood and in 1998 he and his wife spent their honeymoon in the Highlands.
As part of Brave's creative team, he also took part in research trips to Scotland, and would often turn up for meetings in the US wearing a kilt.
Andrews said he was looking forward to returning to mentor students.
'Inspiring land'
"Scotland is the most beautiful and inspiring land that I know," he said.
"The rolling hills, the sense of deep-rooted mystery, and most of all, the people, are rich with stories."
Andrews accepted an invitation to come to Scotland from Culture Secretary Fiona Hyslop while she was visiting Disney Pixar's California headquarters during Scotland Week 2012.
Ms Hyslop said she was delighted "one of Hollywood's hottest talents" has agreed to work with students here.
"The opportunity to learn from such a hugely successful and experienced film-maker is very rare indeed, and I have no doubt that it will be a valuable one," she said.
"This skills-sharing and mentoring programme could not have happened without Brave and the resultant strong links between Disney Pixar and Scotland."
Mr Andrews' visit will be the first time that a film-maker from the award-winning company has been involved in a mentoring project with students in the UK.
Glasgow School of Art director, Prof Seona Reid, said: "We are delighted that a film-maker of Mark's calibre has offered to come and work with our students sharing his considerable experience and expertise with the next generation of creative talent.
"Pixar is a world-leading animation film company and the insight Mark will give to our students will be invaluable as they develop their own practice."
Brave was one of the most successful animated films of 2012.
It told the story of Merida, a flame-haired princess in ancient Scotland.