Lynda Spence trial: Missing woman 'owed criminals cash'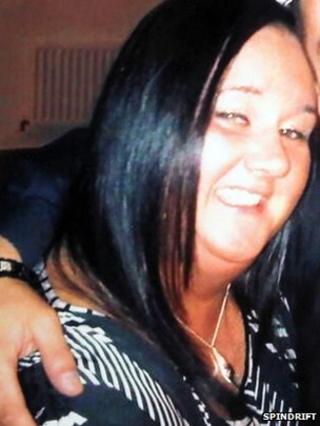 One of four men accused of murdering missing financial adviser Lynda Spence told police that she owed money to criminals, a court has heard.
Det Con Alexander McEwan, 42, told the High Court in Glasgow that he spoke to Colin Coats about Ms Spence's dealings.
He said the 42-year-old told him she had taken money from the Chinese community and was involved in getting fake passports for Eastern Europeans.
Mr Coats, David Parker, 37, Paul Smith, 47 and Philip Wade, 42, deny murder.
Det Con McEwan told the court he met Mr Coats in Glasgow on 6 June 2011 while investigating Ms Spence's disappearance two months earlier.
The detective said that he wrote down a number of figures during the meeting but Mr Coats refused to give an official statement.
Chinese community
Looking at his notes, the witness said: "There's figures that Colin Coats said Lynda Spence owed to various well-known criminals in Glasgow that he said he had now incurred the debts for."
Det Con McEwan said Mr Coats talked about "power of attorney" during the discussion and mentioned figures of £90,000 and £150,000.
"There's mention of people in the Chinese community being owed £175,000," he said.
"There's mention of other well-known criminals in Glasgow."
Under cross-examination by Derek Ogg QC, defending Mr Coats, Mr McEwan said: "Colin Coats told me that Lynda was to get three passports for three Polish Eastern Europeans, fraudulent passports."
Referring to a deal mentioned in the policeman's notes, Mr Ogg asked the witness: "Was that Colin Coats telling you that one of the deals she was involved in was a land deal at Stansted Airport?"
He replied: "Yes."
Under further questioning, he agreed that Mr Coats had told him that Ms Spence used "approximately £8,000 or £9,000" of Mr Coats' money, from his own parents' funeral fund, to buy a caravan for £22,000.
He agreed that Mr Coats had told him that "by way of recompense" Ms Spence said he was to take the caravan in Fife but there was a problem with the landowner and "it couldn't be done".
Mr Ogg said: "He had a lot of business dealings with Lynda Spence and she owed him a heck of a lot of money?"
Mr McEwan agreed.
'Burned with iron'
Earlier, the court heard that Ms Spence had her kneecaps broken with a golf club during a torture session at a flat.
Mr Parker told police that she was held at his home in West Kilbride, North Ayrshire, after he was offered £1,500.
She was burned with a steam iron and hit with a golf club while bound to a chair and wearing glasses with black tape on them, the trial heard.
A taped police interview was played to the jury in which Mr Parker told officers he was on medication for post-traumatic stress disorder.
He was asked during the interview: "Her kneecaps were broken, weren't they?"
Mr Parker replied: "Yes. I remember my golf club was missing."
Asked on tape again later about his comments on the alleged kneecapping, he said that he had said it was her "legs" that had been hit.
He added: "When I went up to give her a cigarette or a cuppa I noticed my golf club was all twisted to bits."
Stress disorder
The club was a seven iron, he said, which he had found and had used to try to teach his son to play.
He told police he did not know who had used the club on Ms Spence.
Mr Parker said he agreed to allow his Meadowfoot Road flat to be used after being approached by Mr Smith.
He told police in the interview on 31 October 2011: "This has given me post-traumatic stress disorder.
"I'm on medication, I'm seeing a psychiatrist after this."
The four men on trial deny abducting Ms Spence and torturing her at Mr Parker's flat in Meadowfoot Road, West Kilbride, between 14 and 28 April 2011.
It is claimed they murdered her after torturing her to obtain financial information and then cut off her head and disposed of her body.
The trial before judge Lord Pentland continues.